Elton John - A Single Man (1978)
Album nato un po' per caso, dopo un temporaneo abbandono delle scene, fu registrato nell'estate del 1978, nel nuovo studio di registrazione di

Gus

Dudgeon

, The Mill, anche se l'album fu prodotto dallo stesso Elton insieme a

Clive Franks,

il suo fedele tecnico del suono durante i tour. La particolarità è senza dubbio che per la prima volta non compare il nome di Bernie Taupin in un disco di Elton John, infatti tutti i testi sono a firma di Gary Osborne, già paroliere di Kiki Dee e autore di spot commerciali. E in questo caso Elton ha cambiato anche il suo modo di comporre, infatti i brani sono stati realizzati prima musicalmente e solo in seguito è stato composto il testo, esattamente l'opposto di quello che avveniva con Bernie. In ogni caso, nonostante Osborne non sia assolutamente a livello di Taupin per quanto riguarda i testi, i risultati sono ancora ottimi e, per molti, l'ultimo grande album di un'era eltonjohniana che stava finendo. Il disco è caratterizzato anche dai musicisti che vi suonarono: lo sconcertato Clive Franks che si ritrovò a suonare il basso,

Steve Holley

alla batteria e il grande Tim Renwick (in pratica due dei musicisti che avevano appena contribuito all'enorme successo dell'album di

Al Stewart

,

The Year Of The Cat

), alla chitarra, con il suo sound pinkfloydiano. Dell'album in vinile furono prodotte due versioni picture disc, una regolare relativamente facile da reperire e una promo, con un retro differente. La copertina rappresenta un Elton (senza occhiali!) sullo sfondo del castello di Windsor, nel Berkshire.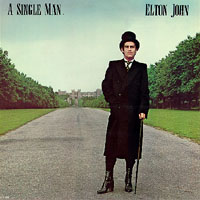 1) Shine On Through
2) Return To Paradise
3) I Don't Care
4) Big Dipper
5) It Ain't Gonna Be Easy
6) Part Time Love
7) Georgia
8) Shooting Star
9) Madness
10) Reverie*
11) Song For Guy*

* strumentali




classifiche:
Stati Uniti: 15° posto
Inghilterra: 8° posto
Italia: 13° posto
da Rolling Stone del 25 gennaio 1979
For his first album in two years, Elton John's wiped the slate clean and exchanged longtime collaborator Bernie Taupin for War of the Worlds lyricist Gary Osborne. Instead of recording with a set band and producer Gus Dudgeon, John's coproduced himself and used studio musicians to turn out his sparest LP since Honky Chateau. But this move toward simplicity is a step into emptiness, since A Single Man is nothing more than a collection of trivial hooks performed about as perfunctorily as possible.

If John and Taupin's final collaboration. Blue Moves, was a disastrous exercise in inflated pop rhetoric, A Single Man is an equally disastrous exercise in smug vapidity. The songs here are barely songs at all, but childish Neil Sedaka-style ditties with characterless little nursery rhymes for lyrics. Whereas Bernie Taupin may have been Elton John's Bob Dylan manqué, Gary Osborne is surely his Howard Greenfield manqué, a famous versifier who, in "Madness," blithely turns terrorism into pablum: "The roar of fire rings out on high/And flames light up the black night sky/A child screams out in fear/A hopeless cry for help but no one is near enough to hear." John shrieks this garbage with all the passion of a kid who can't find the cookie in his lunch box.

Even the best tune, "Shine On Through," is marred by hopelessly trite words ("Oh my love/I have cursed the stars above") and a dull, slogging arrangement. "Georgia." "It Ain't Gonna Be Easy" and "Shine On Through" are typical Elton John pop-gospel glosses that reduce style into hooks that merely recall other hooks. The epitome, of ready-made pop, they're as hummable as they are hackneyed, but because the singer treats them more seriously than they deserve, they sound lifeless. John should know that such junk, like cheap clothes, must be flashy to attract. These songs cry out for just the kind of fake-churchy glitz Gus Dudgeon would have provided, but the star studiously avoids glitz in a misbegotten attempt to be "tasteful."

This newly acquired, spinsterish decorum also drags down the uptempo numbers. "Part-Time Love," "Return to Paradise" (a recycled "Island Girl"), "I Don't Care" and "Big Dipper" might have been fun had they been given the kind of hot, streamlined band arrangements that animated Rock of the Westies. Instead, John's embalmed them in fussy pop-rock settings that simply underscore their moronity. "Shooting Star," a moody wisp of a ballad, and "Song for Guy," a synthesized instrumental of the sort you might hear in a dentist's office, round out the debacle.

A Single Man demonstrates just how thin the line really is between disposable radio pop and elevator music, and suggests that for all of Elton John's public whining about not being taken seriously, the only thing that's ever mattered to him is that the hits keep coming. May they not.
3,5 su 5
STEPHEN HOLDEN


by

After a dozen albums with lyrical collaborator Bernie Taupin, A Single Man(1978) represents Elton John's first full-length release away from their decade-long partnership. John's initial intent was to complete work on a Taupin-era remnant that had been on the back burner, titled Ego. However, he found himself with some interesting melodies and eventually teamed up with former Vigrass & Osborne member Gary Osborne. Also contributing to this album's different approach is producer Gus Dudgeon -- who had worked with John as far back as his debut long-player, Empty Sky (1969). The infusion of new musical associates takes notable effect on songs such as the opener, "Shine on Through," which John had previously worked up during the Thom Bell Philly soul sessions that produced the hit "Mama Can't Buy You Love." (That version is available as one of three previously unissued sides on the Complete Thom Bell Sessions EP.) Among the other standouts are the gospel-tinged "Georgia," the lengthy blues-rocker "It Ain't Gonna Be Easy," and the ultra campy, if not lightweight, "Big Dipper." The single "Part-Time Love" only made a nominal chart impact despite its catchy and danceable melody. The 1998 CD remaster boasts five additional bonus tracks from a variety of 45s. These include the single-only cuts "Ego," "Flintstone Boy," "I Cry at Night," "Lovesick," and "Strangers." This final track would not be issued for almost a year as the B-side to the disco drivel "Victim of Love."
da

All Music Guide





It's not that

Elton John

was in need of a comeback in 1978, when he released A Single Man, because he was still one of pop's biggest stars. But he certainly had hit a creative drought with 1976's

Blue Moves

, a turgid double album that found

Elton

and his partner

Bernie Taupin

barely able to write a side's worth of memorable material.

John

took a couple of years off and reemerged with a new lyricist, name of Gary Osbourne, who was certainly more straightforward than

Taupin

, but not as inspired. Even if he lacked

Bernie

's endearing incomprehensibility, Osbourne kick-started

John

creatively, spurring him to write his strongest collection of songs since

Captain Fantastic

. Also,

John

left behind

Gus Dudgeon

, the other partner of his classic period, choosing to collaborate with Clive Franks. Now, this didn't result in a blockbuster of an album; even if it was a hit in both the U.K. and U.S., none of the songs, even hits like "Part-Time Love," are considered part of his basic canon, but this is easily one of his most underrated records, a tight collection of pop songs where the craft effortlessly shines. He does contemporary pop, elegant instrumentals like "Song for Guy," and even apes New Orleans R&B effectively on "Big Dipper." This, of course, is a testament to

John

's talents, especially because it didn't become a perennial in his catalog -- for most artists, a record this skilled and sophisticated would be a highpoint. Here, it's simply

Elton

doing his job as best he can. [The 1998 reissue -- which didn't appear in the U.S. until 2001 -- contains five bonus tracks, extensive liner notes, and restored artwork.]

Stephen Thomas Erlewine

anno/label
1978 - ROCKET in UK, MCA in USA
produzione

Elton John

- Clive Franks
arrangiamenti orchestrali
Paul Buckmaster
studio
musicisti

Steve Holley

: batteria; Ray Cooper: percussioni; Clive Franks: basso;

Herbie Flowers

: basso; Tim Renwick: chitarre; Davey Johnstone: chitarra;

B.J. Cole

: chitarra steel;

Pat Alcox

: tromba;

John Crocker

: clarinetto;

Jim Sheperd

: trombone;

Paul Buckmaster

: arpa;

Watford Football Team

,

South Audley Street Girl's Choir

,

Vicky Brown

,

Joanne Stone

,

Stevie Lange

, Gary Osborne,

Davey

Johnstone

e

Chris Thompson

: cori;

Elton

piano e tastiere
note
eccellente album nato un po' per caso, senza i testi di Bernie Taupin ma con quelli di Gary Osborne; il disco che fa terminare l'Elton degli anni 70, gli album successivi saranno una cosa diversa.
il grande Tim Renwick alla chitarra e (!) Clive Franks al basso.