LIVE 8
Hide Park, Londra 2 luglio 2005




con Pete Doherty



"I'm glad to be here in general, because when the Live Aid concert happened 20 years ago, I was pretty much a self-obsessed drug addict.
And although I was really pleased to be part of a great day, I really wasn't adult enough or mature enough to realise the full consequences of what we were doing then.
Since then, of course, I have been 15 years sober and clean and I think I have grown up and matured a bit and started my own Aids charity and have been in a huge battle to help Aids patients ever since.
And of course, those two things are tied in together very much so.
I went to Africa in January and saw for myself the situation there and saw the ignorance and stigma that people are fighting against. And I'm just very proud to be involved in something.
Musicians are kind of like Pied Pipers in this respect, and now I'm really aware or what is going and the injustices that are happening and the anger that we get from seeing it.
Just a simple turning over of money is not as simple as that because you have got corrupt governments to deal with and everything.
And we have so much ignorance that we are fighting like South Africa, we have the president of South Africa saying that Aids is caused by poverty. I wish!
I don't have much to say, except that I'm extremely honoured to be around to play this concert, because it means so much more to me now than it did.
It may sound ridiculous but it really does mean a lot more to me now, because I'm fully aware of the situations having become involved in fundraising and trying to combat poverty and ignorance through the Aids Foundation.
I know all the musicians taking part are the creme de la creme. Since Live Aid, musicians have really stepped up to the plate, like Bono. Bob's always been there.
The reason I'm here today is that Bob Geldof asked me to do something. I would go on a dangerous mission with Bob, I trust him with my life.
He's an honourable, honourable man and I admire so much for what he is doing here.


I think he encouraged, through Live Aid 20 years ago, musicians to really think about what they should be doing instead of just playing and driving around in flash cars."




Elton John 2005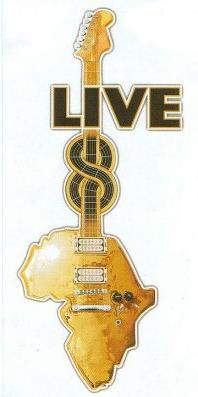 Elton ha duettato con Peter Doherty in occasione del Live 8, un Live Aid 20 anni dopo, con la canzone Children Of The Revolution.
La prestazione di Doherty è stata giudicata senza dubbio la peggiore di tutta la manifestazione.


The Bitch Is Back
Saturday Night's Alright (For Fighting)
Children Of The Revolution