The Million Dollar Piano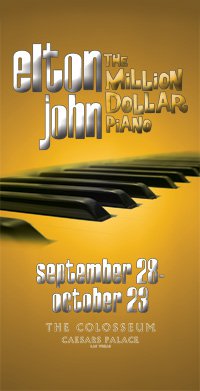 The Million Dollar Piano
è il nuovo spettacolo che Elton John ha portato al Caesars Palace di Las Vegas, a partire dal 28 settembre 2011, per una durata iniziale di tre anni. Lo show, il cui protagonista è un piano speciale prodotto dalla Yamaha in soli due esemplari, predeve la presenza, oltre alla banb, di
Ray Cooper
e dei due violoncellisti croati che lo hanno accompagnato nel tour estivo).
La permanenza dello show a Las Vegas potrebbe prolungarsi per altri anni in seguito, come è già successo per il precedente
The Red Piano
.

da www.lasvegassun.com

By Robin Leach (contact)

Thursday, Sept. 29, 2011 | 11:59 a.m.



Elton John's The Million Dollar Piano at Caesars Palace


There's no question that Sir Elton John is a true genius and superstar singer, songwriter and performer who dominates the giant Colosseum stage at Caesars Palace. But he's got some pretty stiff onstage competition for attention.

First, there's the 3,200-pound piano that took Yamaha engineers four years to handcraft. Elton joked: "It's got everything except a barbecue." To prove that it's the wildest piano in the world, he showcased its glass top with an aquarium of fish on its 68 LED video screens that lit up at one point proudly displaying its $1 million price tag. (A second identical one will be auctioned off for charity.)

Then there's the massive 120-foot-wide-by-60-foot-tall, seamless, wall-to-wall video screen that dominates the Colosseum stage. Creative director Tony King and video producer Sam Pattinson have to be congratulated for their totally unique and creative content. I've never seen anything like this -- it's truly awesome, majestic, monumental and mind-blowing, a kaleidoscopic assault on the senses using outrageous carnival colors from a psychedelic trip.

Talk about shock and awe as it punches up amazing videos of Elton's career and personal life that winds up with his marriage to partner David Furnish and their baby. Later when the wall explodes with visuals from the world's most extraordinary fairground, it becomes the high-energy ride of a lifetime, as this fabulous photo gallery by Brian Jones of Las Vegas News Bureau, Denise Truscello and Erik Kabik shows.

Then comes Elton's veteran lineup of musicians, plus two new cellists who duel at one point with his electronic guitarist. It's hats off and a 21-gun salute to drummer and percussionist Ray Cooper, who, splendid in suit and tie, creates more magic at his special setup (drums, congas, gongs, cymbals, tubular bells, xylophone and timpani) than Gene Krupa or Buddy Rich could have dreamed possible.

Ray is a miracle and magical musician, and Elton rightfully gives him two special acknowledgments in the dazzling and nonstop 120-minute show. It's been 16 years since Ray was with the full band. This lineup has never before been seen at an Elton John concert.

In advance of the show, Elton promised to raise the bar for Las Vegas entertainment, and he more than succeeded. It is brilliant showmanship on every level imaginable. The AEG producers called it "a triumphant return," but I believe technically it might be the best show ever assembled.

Elton said that it all came together in just four months. Credit is due to English photographer Sam Taylor-Wood, who created this pop culture masterpiece that is 100 giant strides on from Red Piano, Elton's previous Caesars success with photographer David LaChappelle.

"At this time, I've never enjoyed playing more live than I have now," said Elton, and he proved it right from the get-go when he swept onstage in a head-to-toe, gold-sequined lame cloak -- right out of Liberace's closet -- for his opening salvo of "The Bitch Is Back." His bluesy English tenor turned baritone seems to be the strongest it's ever been -- richer, deeper and all despite throat surgery in the 1980s. It won him ovation after ovation of every hit song he packed into the rocket-speed Captain Fantastic spectacular.

He acknowledged that "he wouldn't be here tonight" if it wasn't for his songwriting partner Bernie Taupin and recalled the days back in his parents' Harrow flat 20 miles outside London -- where I also grew up -- where they first wrote together.

In between songs, he talked comfortably with the audience, joking that The Colosseum stage had produced miracles while he was away: Celine Dion's new babies, Cher's daughter who became a son, Rod Stewart becoming a new dad, proud grandfather and father-in-law to actor Benicio del Toro, and Elton himself taking on new baby parenting duties. "If you want to get pregnant, just come up onstage" he teased.

His four backup singers Tata Vega, Jean Witherspoon and Rock & Roll Hall of Famer Rose Stone (yes, of her brother Sly's Family Stone) and her daughter Lisa Stone were the perfect soulful, funky, gospel accompaniment. Cellists Luka Sulic and Stjepan Hauser scored and soared with their outrageous stylings so much so that they're certain to get their own stage act while here from Croatia.

Actor and magician Neil Patrick Harris and his partner David Burtka, The Killers frontman Brandon Flowers, Caesars Palace President Gary Selesner and AEG head honcho John Meglen were among the VIP first-night audience, and they joined Elton after the show for a celebration at Chef Michel Richard's new Central 24/7.

Elton's five-year run at Caesars with Red Piano began in February 2004. What began as a 75-show commitment over three years expanded to 241 shows over five years that ended in April 2009. And now again The Million Dollar Piano shows are being expanded: Tickets went on sale last night for additional dates throughout February.

Elton John's The Million Dollar Piano at Caesars Palace on Sept. 28, 2011.

Elton's 40th anniversary Las Vegas show was nothing but the hits: from "The Bitch Is Back" opening onto "Benny and the Jets," Captain Fantastic's "Better Off Dead," "Philadelphia Freedom," "Goodbye Yellow Brick Road," "I'm Still Standing," "Hey Ahab" (his salute to Leon Russell), "Tiny Dancer," "Saturday Night's Alright (For Fighting)" and "Your Song."

Two standouts were his "Blue Eyes" tribute to late friend actress Elizabeth Taylor and his epic "Don't Let the Sun Go Down on Me" with a shining setting sun that bathed the stage and the auditorium in glowing gold rays. The video of Elizabeth even sparkled like the facets of her mighty-expensive rings and jewelry. How do you top that? Well, Elton's finale was his The Lion King hit "Circle of Life."

But that piano is definitely part of the show's success story. Elton introduced it as his new girlfriend Blossom, and it's the sixth in his collection all named after female singers including Aretha Franklin, Diana Krall, Nina Simone and Winifred Atwell, the latter an inspiration while growing up in London.

"The piano is functional as a work of art and as a playable instrument containing state-of-the-art video and lighting that explodes the boundaries of instrument and performer. It reacts to how Elton plays -- more intense, less intense. For the first time, it's a visual and audio storyteller," Yamaha VP and Artist Services chief Chris Gero said.

The 10-foot-long concert grand cost $1.3 million, but who's counting the overage?! "When I had the Red Piano, it was like driving a Ferrari. It looked fantastic and was incredibly successful. But this takes it to a whole new level. Now it's like getting into a Formula 1 racing car. It's absolutely perfect," said Elton, who collaborated on its design with 27-year-old industrial designer Akie Hinokio and her Yamaha team led by Chris.

All hand-assembled, its interior contains a harp and hardware made from nickel instead of the usual brass. Live cameras are mounted behind the keys so the audience gets a piano's-eye-view of the action. Built-in sensors in the keyboard let Elton trigger visual effects throughout the theater and add sonic enhancements. Yamaha has five technicians who maintain it and tune it before each performance.

I'd be remiss if I didn't give credit for this outstanding theatrical extravaganza to the show's design team of Mark Fisher and Patrick Woodroffe. Mark, best known for his design of Pink Floyd's "The Wall" and the opening and closing ceremonies of the 2008 Beijing Olympics, is the mastermind behind the show's impressive set. Patrick, best known for his work with The Rolling Stones, conceived and designed the lighting effects that dazzle and augment the majestic set and perfect piano.

The show is a mile-a-minute, goose-bump experience. Elton goes through it all with ease looking relaxed and comfortable. But it's such an emotional experience of musical creativity at its finest that you feel KO'd like a boxer after 10 rounds. It's a visual and aural assault on the senses that leaves you exhausted yet simultaneously deliriously happy and thrilled.

Don't be at all surprised if it's a total sellout with the three-year term quickly expanding to five. Don't run to the box office -- race there. You'll be talking about The Million Dollar Piano for years to come. Simply put, it's one epic masterpiece of musical entertainment.

Robin Leach has been a journalist for more than 50 years and has spent the past decade giving readers the inside scoop on Las Vegas, the world's premier platinum playground.


da www.billboard.com

Monochrome does not suit Elton John well. As one of rock's most colorful performers, the mere mention of his name conjures a rainbow of visuals, especially considering the famous video screen that was a key attraction for his first Las Vegas residency that last five years, "The Red Piano." In name alone "The Million Dollar Piano" sounds more vibrant and broader than its predecessor and John has definitely not opted to create a sequel -- this is a wholly new show that owes more to music than the marriage of song and spectacle.

A half-hour longer than "The Red Piano" and oriented more toward John's personal history, "The Million Dollar Piano" was unveiled Wednesday night at the Colosseum at Caesars Palace to a crowd that was appreciative though not consistently enthusiastic. The piano, a Yamaha grand with its lid closed, required four years of construction and includes 68 LED video screens and its side becomes a screen for film footage, animation, decorative designs and bolts of color that complement the set. Like his five other pianos, it is named for a female performer, this one christened Blossom in honor of the late cabaret and jazz singer-pianist Blossom Dearie.

Nineteen songs, 10 of which were in "Red Piano," are performed in two hours in the new show, nearly all of them collaborations with lyricist Bernie Taupin. It is rich in '70s music and lore: The obscurities include "Better Off Dead" and "Indian Sunset" from the early part of the decade; a stream of Elton video images during "I'm Still Standing" celebrate his visits to quirky haberdasheries during the decade; and images of LPs and turntables assist in a few moments of time travel.

With Mark Fisher's set of a Roman arch separated into two pieces and a pair of giant paisley-shaped set pieces, the screen behind John's six-piece band and four backup singers is used to create moods and tell stories. "Rocket Man" is enhanced with the sort of space imagery associated with the Hubble Telescope; "Mona Lisas and Mad Hatters," which John has connected with 9/11, is accompanied by recently shot black and white video portraits of New Yorkers. "Tiny Dancer," which gets a simple mauve and black treatment, is among the songs that benefit from Patrick Woodroffe's impressive lighting design which ranges from "Hey Ahab's" acid trip visuals to 60 individual spotlights flooding the stage with light from above on "Bennie and the Jets."

About half the songs have specific video elements, the most clever one accompanying "Goodbye Yellow Brick Road." It's a winding animated journey through John's life that starts near the Troubadour nightclub, includes his costumes, Broadway shows and old videos, and closes with a baby and the cover photo of recent album with Leon Russell, "The Union." Assembled, John said, in about four months, the show's set-up is flexible enough that John can swap out out songs if he so desires.

Musically, John is not about to surprise anyone. Backed by his longtime bandmates guitarist Davey Johnstone, drummer Nigel Olsson and, on opening night, percussionist Ray Cooper, John stuck with familiar arrangements and tempos, adding a few frisky piano runs during "Rocket Man" and amplified the gospel element of "Levon" in his throaty vocal and the organ playing of Kim Bullard. The presence of two cellists plus four back-up singers enhanced the humanity of several songs.

Playing the role of a cheerleader, John -- dressed in a dark suit with gold glitter to match his gold shoes -- would get up from his piano bench frequently and pump his fists or encourage a sing-along. He speaks often between songs, specifically celebrating individuals who inspired him - John Lennon, Lech Walesa, Elizabeth Taylor, Nelson Mandela, Ryan White, Leon Russell and his writing partner Bernie Taupin -- with shout-outs. Visually, a cap is tipped to Philadelphia soul pioneers Kenny Gamble and Leon Huff on "Philadelphia Freedom." It's a personal show, more restrained than the video-gone-wild vision of David LaChapelle that gave "Red Piano" its character. While that was more hit friendly, "Million Dollar Piano" will be more suitable for anyone who has at any time considered themselves and Elton John fan.

Opening in mid-week certainly limits the celebrity quotient as Neil Patrick Harris was the only Hollywood star making it to the opening. John has 15 shows scheduled between Sept. 30 and Oct. 23 in Vegas before heading to Russia and Down Under. He returns to Las Vegas next year for seven concerts between Feb. 9 and Feb. 18. A handful of tickets are $500 but most of the orchestra is priced at $250. The rest of the 4,300-seat house is $175, $140, $95 and $55.


www.variety.com


Elton John
(Caesars Palace Colosseum, Las Vegas, 4,300 capacity, $250 top)
By Melinda Newman


Presented by Caesars Palace. Performers: Elton John, Davey Johnstone, Nigel Olsson, Bob Birch, John Mahon, Ray Cooper, Kim Bullard. Reviewed Sept. 28, 2011

Never let it be said that Elton John doesn't have a sense of humor. His highly-anticipated return to Caesars Palace Colosseum began with his longtime band playing the opening to "The Bitch Is Back," as the superstar swanned onstage in a bejeweled cape so sparkly and bright that even Liberace would have had to think twice about donning it.

"The Million Dollar Piano," as opposed to "The Red Piano" -- the title of his previous five-year run at Caesars that ended in 2008 -- travels down much of the same yellow brick road musically as its predecessor, but it veers off the beaten path in a way that is sure to satisfy longtime fans. "Red" contained wall-to-wall hits. "Million," so named because John's piano allegedly cost $1 million and took nearly four years for Yamaha to manufacture, is also hit-driven, but in the middle of the two-hour show, John delved deep into his estimable catalog, pulling out such chestnuts as 1971's "Indian Sunset" (perhaps best known in the U.S. as a sample source for Tupac Shakur's posthumous 2004 hit "Ghetto Gospel"), "Honky Chateau's" "Mona Lisa and Mad Hatters" and "Better Off Dead" from "Captain Fantastic and the Brown Dirt Cowboy."

John's entertaining, enthusiastic performance kicked into overdrive in the last half-hour, starting with the rollicking, piano-pounding "Hey Ahab," from his underrated 2010 album with musical hero Leon Russell, "The Union," before careening through "I'm Still Standing," "Crocodile Rock" and "Saturday Night's Alright For Fighting."

Visually, the show, which will have a three-year run, has gotten a tremendous facelift. The set of "The Red Piano" featured neon signs and a large screen for the mini-movies that photographer-director David LaChapelle created for nearly each song. The set for "The Million Dollar Piano," designed by Mark Fisher, replicates a Roman bridge with movable ornate golden half-arches on either side -- so elaborate that they contain bas-reliefs of John's two cocker spaniels, Arthur and Marilyn. (The only obvious opening night production flaw? The lights on the arch stage left went rogue, often blinking on their own). Some of the band members and four female backup singers -- who were largely underutilized -- are positioned on a riser, and above them is another riser for percussionist and longtime John cohort Ray Cooper, whose movements are so flamboyant that he turns the simple act of hitting a tambourine into a major event.

Behind all that was a massive screen that projected state-of-the art images for almost every tune, whether it be the colorful, Peter Max-like short films for "Philadelphia Freedom" or the beautifully-rendered animated timeline of John's life that plays behind "Goodbye Yellow Brick Road" and ends, sweetly, with a photo of John's new baby boy. Other scenes are more abstract, such as baroque hallways and chandeliers that appear to move closer, as if in 3D. At times, the wild kaleidoscope of images borders on sensory overload, leading to a distracting, kitchen-sink effect.

Near the end, when almost all of the bells and whistles go away during "Crocodile Rock" and the screen is projecting only John and his band playing, as well as the obligatory audience shots, the take-away is that for all "The Million Dollar Piano's" excesses, after five decades, John needs absolutely none of it to work his musical magic.