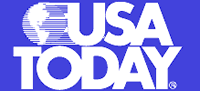 Ever the showman, Elton embraces Las Vegas style
By Edna Gundersen
USA TODAY
Posted 2/15/2004 10:50 PM
LAS VEGAS — Nobody loses in Elton John's high-stakes gambol.
After selling 200 million albums, the 56-year-old icon has reached the age and stage when many superstars hit Las Vegas to cash in on nostalgia. Instead, John is bucking the odds with an ambitious and dicey revue.
The Red Piano, named after his lacquered Yamaha grand, is too stately a title for this eye-popping, jaw-dropping spree (**** out of four), which opened Friday night at the 4,100-seat Colosseum in Caesars Palace.
Committing to 75 shows over three years, John is one of Celine Dion's vacation stand-ins at the $95 million venue built specifically for the Canadian diva. He's no second banana. He and photographer David LaChappelle deliver a first-rate technical knockout that masterfully synchronizes sound and vision.
The show takes full advantage of John's strengths as a natural showman, skilled pianist and strong singer (though he no longer chases the high notes in tunes such as Tiny Dancer). Music dominates as he and his band barrel through 15 songs in 100 minutes, yet John nearly vanishes in the foreground while a visual smorgasbord unfolds on a monster LED screen.
LaChappelle, Red Piano's director and designer, bombards the senses with brilliant video montages and riveting short films. Instead of distracting attention from John's melodic rock and timeless pop balladry, the eye candy sharpens the focus on music by plugging into its themes and emotions.
During Philadelphia Freedom, psychedelic footage rolls amid images of rhythmic human movement, from body builders and showgirls to go-go dancers and drum majorettes. The alienation of Rocket Man is conveyed in a backstage docudrama with Justin Timberlake as a young Elton besieged by groupies, reporters, photographers and hangers-on, shot in slo-mo to drive home the sense of isolation and claustrophobia.
Daniel, its vague lyrics wed to the saga of a sleeping boy aging into a dying soldier, has a touching beauty. I Want Love and Your Song also imbue poignancy, as does Candle in the Wind, restored as a love letter to Marilyn Monroe, who is portrayed by a dead ringer as playful, vulnerable and tragic.
The show, to be presented nowhere else, draws inspiration from the decadent glitz of Sin City, seen distressed and undressed in a stage strewn with giant neon fixtures and puerile but whimsical inflatables of big breasts, garter-clad legs, lips, a hot dog, ice cream cone and suggestively posed bananas and cherries. Gloriously tacky Vegas wedding chapels, Elvis impersonators and gamblers decorate Pinball Wizard. And in the most buzzed-about number, The Bitch Is Back finds Pamela Anderson all too convincing as a pole-dancing stripper in pasties and rhinestones. The choreography is less salacious but more captivating in Don't Let the Sun Go Downon Me and the raucous Saturday Night's Alright for Fighting.
Chunks of The Red Piano could be as garish and hollow as the Vegas Strip if not for the warmth and sturdiness of John's music. When the glitter settles, Sir Elton is still standing as one of pop's indestructible talents.

POP MUSIC REVIEW
John's Vegas show proves a big winner
Elton John continues to share his music live with passion and warmth.
By Robert Hilburn
LA Times Staff Writer
February 16, 2004
LAS VEGAS — The oldest truism in this gambling citadel is that the odds always favor the house, and that was never more the case than over the weekend when Caesars Palace put Elton John's name on the marquee of its 4,100-seat Colosseum.
Few performers in modern pop have been as consistently rewarding on stage as this Englishman whose most compelling numbers, written with lyricist Bernie Taupin, have spoken about the search for companionship and love with an accessibility and grace that have made them part of our cultural fabric.
Whether performing in the sometimes zany costumes of his early days or in his recent, more straightforward, recital fashion, John has shared his music live with a passion and warmth that have made the arena shows consistently joyful.
But John's new "The Red Piano" show, which opened Friday, is a triumphant step forward for both him and Las Vegas. In a 90-minute set directed and designed by David LaChappelle, the production employs ambitious, original video footage on John's songs in ways that are alternately touching and inspiring.
For contemporary pop-rock performers who have long worried that they would have to eliminate some of the challenging elements of their music to appeal consistently to the mainstream Las Vegas crowd, the sophistication and daring of this show should be reassuring and eye-opening.
Sometimes the new footage, which is shown on a towering screen at the rear of the stage, helps us to better understand a song — especially the 1973 ballad "Daniel." Through video images as graceful as a ballet, we see that Daniel is killed in battle, something never clear in the song itself.
At other times in "The Red Piano," the images illustrate how the emotion of a song can apply equally to a totally different situation. Rather than show more scenes of someone isolated in space, the video accompanying "Rocket Man" deals with the way a pop star can be isolated by fame.
As John and his five-piece band play the song, the footage follows Justin Timberlake, dressed like a young Elton, through a Dante's freak show of starstruck hangers-on and thrill-seekers backstage, a hard-boiled manager (played by Pee-wee Herman creator Paul Reubens) by his side.
To accompany "Candle in the Wind," however, the images go straight to the song's original subject, Marilyn Monroe, as a hauntingly convincing look-alike goes through scenes that show the star slowly breaking down under professional and personal demands. Not every video matches the songs as perfectly as these, but en masse the footage, whether employing psychedelic images or a modern dance motif, underscores the theme of the search for love in its broadest sense, from personal relationships to social compassion.
Booking John is actually the second roll of the dice for Caesars. The first was stepping away from the production theme-show trend of recent years and returning to the contemporary pop star emphasis that built the city's entertainment reputation, thanks to such dynamic showroom figures as Elvis Presley and Frank Sinatra.
Rather than book today's stars into small showrooms on a rotating basis, however, Caesars took the bold step of building the $95-million Colosseum and signing Celine Dion to appear there five nights a week for three years.
Though many reviews were harsh when Dion's lavish show, designed by Cirque du Soleil wizard Franco Dragone, opened last March, business has been phenomenal. Ticket revenue has already hit $100 million.
John becomes the second Colosseum regular, enabling Dion to have a few weeks off. He'll appear at least 25 nights a year for three years. Like Dion, John even has his own retail store in the hotel, where you can find everything from CDs and T-shirts to a bobble-head doll and a tiny diamond-crested piano that costs $26,000.
Ticket demand has been so strong the hotel has already signed John for another 15 nights this year. After seeing this show, they probably wish they had talked him into doing even more than the 40 dates.
From the opening moments Friday, John made it clear this show was not going to be Vegas middle-brow.
Rather than open with a safe, sing-along ballad, John and his five-piece band, featuring longtime sidekicks Nigel Olsson on drums and Davey Johnstone on guitar, started off with a roar by playing two of John's rowdiest and most aggressive numbers, "Bennie and the Jets" and "Philadelphia Freedom."
In then switching to a ballad, he sidestepped the bigger '70s hits in favor of "Believe," a lesser-known 1995 number whose message of brotherhood and love helped defined the evening's theme.
John didn't rely only on video footage for visuals. When he and the band walked on, E-L-T-O-N was spelled out in garish neon signs that are as much a Las Vegas trademark as roulette wheels and video poker machines. Scattered around the stage were other neon teasers referring to various other Las Vegas enterprises, from pawn shops to quickie marriages.
For the encore, John, alone on stage with his piano, said goodnight, fittingly, with "Your Song," which was his first U.S. hit 34 years ago — a sweet, intimate moment that reminded the audience that it's the music, still, that matters most.
The Colosseum may be known as the house that Dion built, but the ambition and artistry of John's show is what gives the room its first "must see."

Elton john's Vegas Vacation
Rolling Stone Magazine, Issue 944
David Handelman
"We wanted to change the kind off show being done in Vegas," says Elton John, who launched a three-year, estimated $74 million-grossing engagement at Caesars Palace on February 13th. "We wanted to do something that had an edge to it." Indeed, the opening show was a musical and visual tour de force, with bare breasts, a little ballet and lots of classic Elton, including "Bennie and the jets" and "Rocket man." Tickets for The Red Piano – the next show is scheduled for March 23rd – are selling briskly. And for those who want more, an autographed red piano is available…for $30,000.
Full review
The flamboyant rocker conquers Sin City with visual flair
"This is me," Elton John told his opening-night Las Vegas audience, then pointed to a life-size effigy of his gaudy 1970s self that had just flown down from the rafters. "And that," he said, "was me."
That was a canny summation of Sir Elton's surprisingly personable and energetic show, which will play in the Colosseum at Caesar's Palace at least seventy-five times in the next three years during Celine Dion's nights off.
When the gig was announced, it seemed inevitable, and given John's legendary showmanship and the aging of his boomer fan base, maybe a wee bit, you know, sad. But John and his directory-designer, David LaChapelle, fashioned a dizzying sexy, emotional spectacle that both parodied expectations about Vegas glitz and put new life and meaning into fifteen of John's strongest songs.
John, a full-figured fifty-six, has a richer, deeper voice these days, and a masterful keyboard dexterity, but he no longer runs around the stage or tosses piano benches. For pizzazz, LaChapelle added a blend of mesmerizing big-screen videos and self-consciously ridiculous inflatable objects to the show, including squirting breasts and countless phallic symbols. The videos varied, from Pamela Anderson pole-dancing to black-and-white photojournalism of Mary Ellen Mark, to a blinding time-lapse encapsulation of Sin City for "Pinball Wizard." The most affecting clip was choreographed by John Byrne, an alluring, violent lovers' ballet set to "Don't Let the Sun Go Down on Me." Despite the visual excess, John never appeared overwhelmed. Actually, he hadn't sounded this good in years, starting from the rockin' honky-tonk solo on the opener, "Bennie and the Jets," on through his reinvention of "Rocket Man," which sounded more soulful and guttural than the recorded version. In the end, the screens were turned off and John sat alone at the piano, surrounded by inflatable letters spelling out LOVE, singing "Your Song" with gusto and passion.
Here's hoping Celine takes more days off.
TOP 10 VEGAS SHOWS OF 2004:
John reinterprets classic songs in artistic show at Caesars Palace
By MIKE WEATHERFORD
REVIEW-JOURNAL
Elton John's "The Red Piano" at Caesars Palace succeeds as art in its own right while celebrating a great career. A game of semantics clears the way for Elton John's pop-art spectacle to be the most exciting show of 2004.
Cirque du Soleil's "Ka" has been open to ticket-buyers since Thanksgiving weekend. But it declared itself to be in "previews" until Feb. 3, and thus not officially a finished product until 2005.
No matter how they split hairs, it will soon be clear that "Ka" is the most significant thing to happen on the Strip this year. Or in a long time.
But John is hardly a consolation prize. Celine Dion created the new model of resident headliner that Barry Manilow will glom onto next year. But John is the one who really seems to enjoy his stretches in the Colosseum.
"The Red Piano" better fulfilled expectations than the year's other big entry, the Queen catalog musical "We Will Rock You."
The theatrical musical is well sung and handsomely staged, but doesn't live up to the talent involved and people don't seem to be talking it up. If only it had been "Spamalot," the new Monty Python musical, instead.
All three shows do set the bar higher on the Strip, where there are now at least a dozen A-list productions; those that fell from last year's list don't indicate a drop in quality as much as an attempt to vary the list.
Next year brings "Avenue Q" and Franco Dragone's "Le Reve" at Wynn Las Vegas. But, as they say in "Avenue Q," these will do "for now":
1 Elton John, Caesars Palace -- True, the legend takes a subordinate role to a mesmerizing video show by David LaChapelle. And for tickets topping out at $281, he could sing a few more songs. But the larger truth is as big as the giant screen: a showcase that manages to reinterpret classic songs and succeed as art in its own right while celebrating a career that's still moving forward.
2 "O," Bellagio -- Usurped by its new "Ka," Cirque du Soleil's water show ends a six-year run as the cutting edge of technology on the Strip. But with "Ka" more in the realm of grand opera, this one stands as the apex of the dreamlike surrealism that made us love Cirque to begin with.
3 "Mamma Mia!" at Mandalay Bay -- It took "We Will Rock You" to make us appreciate how the creators of "Mamma Mia!" made the idea of the back catalog musical only look easy.
4 "Mystere," Treasure Island -- Eleven years old this weekend, "Mystere" still offers a deft blend of gripping acrobatics and playful European-style clowning.
5 Steve Lawrence and Eydie Gorme, Stardust -- You anticipated the nostalgia and the "last of their old-Vegas kind" part. What you maybe didn't expect was that they still sound so good.
6 Clint Holmes, Harrah's Las Vegas -- Amid shows crammed with automation, the "down front" school of entertainment survives through a showman who keeps the classic Vegas spirit alive without invoking nostalgia.
7 The Second City, Flamingo -- Reintroduce yourself to sketch comedy, a format diluted on TV by the forced efforts of fully costumed late shows. This quintet puts the vitality back as it combines theater with the immediacy of stand-up comedy.
8 "The Fashionistas," Krave nightclub -- Thanks to the deep pockets of creator John Stagliano, this mondo-bizarro adult dance revue is a distinctly personal vision and the rare chance to see what can be created outside of corporate commercial concerns.
9 Mac King, Harrah's Las Vegas -- The comic magician moved into a larger Harrah's venue this summer, but remains a value-priced alternative to triple-digit tickets while still offering a one-of-a-kind stage persona.
10 Celine Dion, Caesars Palace -- The Canadian superstar feels more at home on her colossal stage now than last year, and more in charge of it. Maybe next year we'll see still more personality emerge from a showcase that lives up to the hype, but is stuffed to the point of distraction.

Las Vegas Life
April 2004
Vegas Moment
To Sir With Love
"Holy sh-! Only in Las Vegas!" That phrase was heard more than a few times during Elton John's debut of The Red Piano, as a giant fruit inflated, a videotaped Pamela Anderson pole-danced to the "The Bitch is Back," and a dizzying montage of Vegas scenes flew across giant screens at the Colosseum at Caesar's Palace. With David LaChapelle as producer and Sir Elton as performer, the February show was perhaps one of the Entertainment Capital of the World's best moments. John will play at least 75 dates over the next three years in the 4, 100-seat arena, including several this month.

Variety

Elton John: The Red Piano
By PHIL GALLO

Elton John has achieved a rare pop-music feat in his Vegas-only show: With David LaChappelle, he has created a career overview piece that's visually stimulating and as artistically sound as it is commercial. Driving force in "The Red Piano" is a mammoth LED screen filled with compelling video images that, at their best, detail John's musical journey and place him in the context of pop culture over the last 30 years. Collectively it's as elaborate as his mid-'70s costume-heavy shows and, thanks to the consistently high quality and execution of the material, more spectacular than the outings of his heyday. This is a show people will talk about.

Simultaneously bigger than life and intimate, John's opening-night performance was inspired and graceful. Part of that's due to the fact that the Colosseum is a jewel box compared to the arenas he has been playing with Billy Joel the last few years as he coasted his way through hits. A month shy of his 57th birthday, John is in a comfortable place in Vegas: The images on the screen serve to remind us of his wackier days and the legendary Dodger Stadium concert, saving him the effort he usually puts into clowning around. It allows him to focus on being a serious performer.

His command of the lower register in which he's been singing since throat surgery 17 years ago has never been better, his song selection perfect for his vocals. In ballads such as "Don't Let the Sun Go Down on Me" and "I Guess That's Why They Call It the Blues," the hint of gravel in his voice makes for a particularly affecting performance. As he made clear in his mid-'90s perfs, John is a stylistically varied and intriguing piano player.The set, which will be changed every so often, is dominated by '70s hits penned with Bernie Taupin; 12 of the show's 15 songs placed in the U.S. top 12, and two that didn't, "Tiny Dancer" and Pete Townshend's "Pinball Wizard" (with a snippet of "I Can't Explain" thrown in), are standards in John's canon. He also included "I Want Love," the single from his last album, the superb yet overlooked "Songs From the West Coast," and promised a new album in September (though he did not include any material from it or his film work).

Particularly for those seated in the balconies, the eye is drawn to the video screen that dwarfs John and his ace quintet rather than the performer at the stage-right red piano. The opener, "Bennie and the Jets," is played before an "ELTON" sign of neon letters seemingly removed from older casinos -- the "E" has the look of Elvis at the Hilton, the "T" sparkles like Barbary Coast signage. An assortment of neon signs also littered the stage and lit up on occasion.

On the second song, the simple imagery gives way to an explosion of eye candy. As John belts out "Philadelphia Freedom," multiple images of the Chrysler Building take off as rockets and stream into a parade of 1960s and '70s images -- John in oversized glasses and glitter, porn shots, men kissing, Beatlemania and so on.

In case it wasn't clear to all, John referred to the music and the videos by simply stating, "This is me. That was me."LaChappelle, a photographer by trade, mixes and matches technique and purpose with the videos. On "Daniel," he plays storyteller and clarifies the song's meaning -- it's about a solider killed in war -- and he reclaims "Candle in the Wind" for Marilyn Monroe, using a look-alike to romp through the poses inspired by Bert Stern's photo book "The Complete Last Sitting." Diane Arbus-inspired black-and-whites accompany "I Guess That's Why They Call it the Blues"; Pamela Anderson, in pasties and a sparkling waist-level piece of clothing, shows her pole-dancing skills behind "The Bitch Is Back," the one musicvideo combo that's pure fun.Inflatable set pieces, limited at first to crossed legs on one side and enormous breasts on the other, get out of control toward the end of the night as apples, bananas, a hot dog and a spilled ice cream cone fill the stage while the band goes uptempo with "I'm Still Standing" and "Saturday Night's All Right for Fighting." It's overblown sexual imagery -- one could say a pure Vegas moment -- but it makes the evening's close a bit clumsy. As those pieces deflate and a heart-shaped L, V and E inflate, John returns to the stage and lets the audience know the next tune, "Your Song," is the closer.

Celine Dion had a similar dilemma when she opened the Colosseum and her entourage took bows with no musical accompaniment. It has since been changed.Aside from that minor speed bump, though, it is fascinating how LaChappelle and John's use of the space is so completely different from that of Dion's show. John and band stay put for the bulk of the 95 minutes, as opposed to the movement of Dion and her dancers.

Conceptually, LaChappelle and John ask the audience to view songs in a new light, even if that means disturbing the concertgoer with a ballet to domestic abuse on "Don't Let the Sun Go Down on Me" or "Rocket Man" showing 1970s Elton as a beleaguered rock star.John currently is booked for 91 shows over the next three years; he'll do 41 in 2004.Opening-night crowd include Michael Douglas, Catherine Zeta-Jones, Barbara Walters, Joy Behar, Pamela Anderson, Christina Aguilera, Kathy Griffin and Sharon Osbourne
da vegas.com

Elton John's still standing
By Deana Waddell
It may not always be Saturday night, but at the Colosseum, everything is all right as Elton John performs hit after hit while passionately playing his red piano, sitting atop a lighted star.
Appearing onstage in true Vegas fashion -- with giant lighted letters spelling out his name amid a neon wasteland, Elton John promises no politics, no paparazzi and no lip-synching. Instead, he delivers a jam-packed night of greatest hits set to the striking visuals of David LaChapelle, all with the underlying theme of love.
As if Elton John's voice and delivery aren't enough, more life is breathed into the night with videos interpreting such touching songs as "Daniel," "Don't Let the Sun Go Down on Me" and "Candle in the Wind."
But it's no surprise that Elton John does touching just as well as outrageous. Although more demure in dress than in previous incarnations, the pinball wizard's outlandishness now comes from his set. From videos of Pamela Anderson's pole dancing to "The Bitch is Back" and Justin Timberlake's take on a younger Elton John for "Rocket Man" to larger-than-life blow-up body parts and bouncing balls, audiences are treated to the visual indulgences they'd expect from the wildly spectacled singer.
Lauded by critics as the "most exciting show of 2004," The Red Piano makes for an exceptional evening.
With a trip into the past and a peek at the future, including his new song, "Answer in the Sky," Elton John may sing about the blues, but his optimism and love are felt and shared in The Red Piano.