ELTON JOHN TIMELINE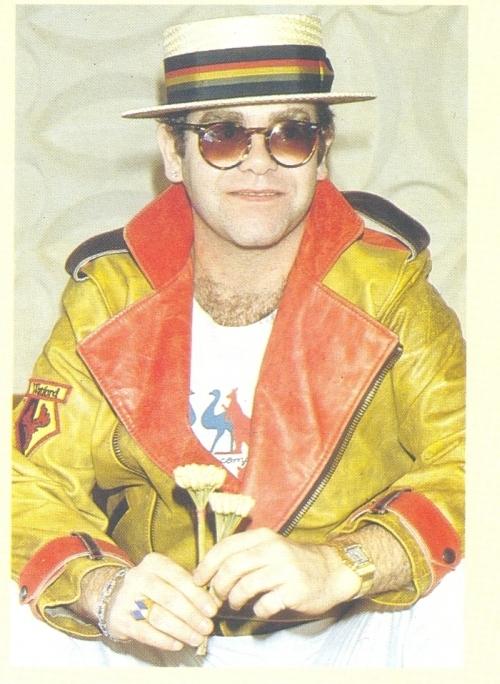 riepilogo cronologico
1986
gennaio il The World Tour prosegue con le date europee
febbraio negli Stati Uniti viene pubblicato il singolo Nikita/The man Who Never Die (GEFFEN 28800), posizione n° 7 in classifica.
marzo in Inghilterra viene pubblicato il doppio singolo Cry To Heaven/Candy By The Pound/Medley/Your Song (ROCKET EJSD 11), posizione n° 47 in classifica.
aprile
maggio
giugno
il 20 Elton partecipa al
The Prince's Trust 10th Anniversary Birthday Party
alla Wembley Arena di London, da questo concerto verrą tratto l'omonimo disco pubblicato nell'aprile del 1987:
Elton John -

I'm Stll Standing
Paul McCartney -

Get Back

(Elton John - piano)
Paul McCartney -

Long Tall Sally

(Elton John - piano)
Paul McCartney -

I Saw Her Standing There

(Elton John - piano)
luglio viene pubblicato negli Stati Uniti l'album degli Wham Music From The Edge Of Heaven (COLUMBIA CK-40285) in cui Elton suona il piano.
agosto il 17 inizia il segmento americano del The World Tour con il concerto di Clarkstone, al Michigan's Pine Knob Music Theater: in questo tour Elton si esibisce in un'usuale performance alla chitarra durante l'esecuzione di Love Song

settembre
ottobre il 12, il concerto dell'Hollywood Bowl, ultima data del tour, viene trasmesso alla radio e verrą pubblicato sui seguenti bootleg: Don't Dream It's Over, It's Starting Again, Los Angeles 1986, Red Spectacles e Live At The Hollywood Bowl; Caleb Quaye si unisce alla band per Saturday Night's Alright.
Rocket Man
Better Off Dead
The Bitch Is Back
Philadelphia Freedom
Burn Down The Mission
Someone Saved My Life Tonight
Blue Eyes
I Guess That's Why They Call It The Blues
Candle In The Wind
Daniel
Levon
Bennie And The Jets
Love Song
Sad Songs (Say So Much)
I'm Still Standing
Restless
Nikita
Saturday Night's Alright (For Fighting)
Your Song
In Gran Bretagna vengono pubblicati i singoli Heartace All Over The World/Highlander (ROCKET EJS 12) posizione n° 45 in classifica e Hearthace All Over The World/Highlander/I'm Still Standing/Passengers (ROCKET EJSD 12)

novembre il 6 inizia il tour australiano con la Melbourne Symphony Orchestra di ben 88 elementi (Tour De Force) con il concerto di Brisbane
Viene pubblicato il nuovo album Leather Jackets negli Stati Uniti (GEFFEN 24114) e in Gran Bretagna (ROCKET EJLP 1), posizione n° 24.
Leather Jackets
Hoop Of Fire
Don't Trust That Woman
Go It Alone
Gypsy Heart
Slow Rivers
Heartace All Over The World

Angeline
Memory Of Love
Paris
I Fall Apart
In Gran Bretagna esce il singolo

Slow Rivers/Billy And The Kids

(7" ROCKET EJS 13, 12" con

Lord Of The Flies

, ROCKET EJS12 13), posizione n° 44.
Negli Stati Uniti esce il singolo 7"
Heartace All Over The World/Highlande

r (GEFFEN 28578
) posizione n° 55 in classifica, e il 12"
Heartace All Over The World (megamix)/Heartace All Over The World/Highlande

r (GEFFEN 205630A)
dicembre
il concerto di Sydney, al
Sydney Entertainment Centre,
del 14 viene registrato e sarą pubblicato nel 1987 come album e video


Funeral For A Friend (con la band)
Rocket Man (con la band)
The Bitch Is Back (con la band)
Daniel (con la band)
Song For You / Blue Eyes / I Guess That's Why They Call It The Blues (con la band)
Bennie And The Jets (con la band)
Sad Songs (Say So Much) (con la band)
I'm Still Standing (con la band)
Sixty Years On (con la band)
I Need You To Turn To (con l'orchestra)

Sorry Seems To Be The Hardest Word (con l'orchestra)
Take Me To The Pilot (con l'orchestra)
Don't Let The Sun Go Down On Me (con l'orchestra)
Candle In The Wind (con l'orchestra)
Burn Down The Mission (con l'orchestra)
Your Song (con l'orchestra)
Saturday Night's Alright For Fighting (con l'orchestra)