Elton John & Band
Shrewsbury 12/06/2011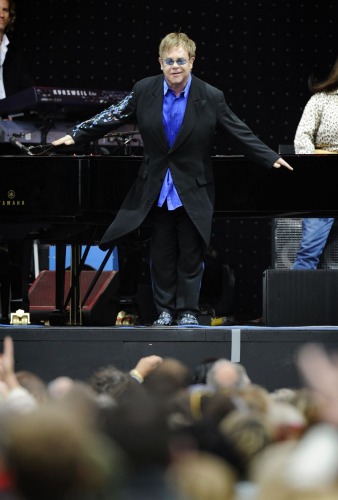 Funeral For a Friend/Love Lies Bleeding
Saturday Night's Alright (For Fighting)
Levon
Madman Across the Water
Tiny Dancer
Philadelphia Freedom
Goodbye Yellow Brick Road
Rocket Man
Sacrifice
I Guess That's Why They Call It the Blues
Hey Ahab
Gone To Shiloh
Monkey Suit
Sad Songs (Say So Much)
Sorry Seems to Be the Hardest Word
Take Me To The Pilot
Don't Let the Sun Go Down on Me
Are You Ready For Love
Bennie and the Jets
The Bitch Is Back
Crocodile Rock
Encore:
Candle in the Wind
Your Song


da www.expressandstar.com

Elton John jetting in for Shrewsbury stadium concert


It's a stadium he's never played before, and Sir Elton John can't wait to play Shrewsbury Town's Greenhous Meadow Stadium, writes Andy Richardson.
The star, who has thrilled millions of fans around the world during his four-decade career, will play the venue on Sunday.
He's expected to thrill fans with a greatest hits set, featuring some of his best-loved tunes like Rocket Man, Candle In The Wind and others.
Sir Elton said: "I'm really looking forward to playing to fans in Shropshire, at Shrewsbury Town's Greenhous Meadow Stadium.
"We're looking forward to a great gig. It should be a great day out and I'm looking forward to the concert."
Sir Elton is only playing three UK gigs during his summer tour, with the others planned for Northamptonshire and Sussex.
Concert spokesman Ben Martin said: "Elton has staged many hugely successful concerts in football stadiums and cricket grounds around the country in the past – all three of these outdoor concerts will be staged within the existing facilities of the grounds, with reserved seating on the field."
Mr Martin added that ticket sales had been brisk from the off and people from around the world would be at the Shrewsbury gig, for an evening with the star.
Sir Elton has been one of the biggest names in showbusiness for four decades and he has sold around 250 million records.
He was knighted for his services to music and charitable services.
His single, Candle in the Wind 1997, sold more than 33 million copies worldwide.
Sir Elton will be backed by his protégé, Ed Drewett, who speaks to the pop icon regularly.
Ed, who describes himself as having the best mentor in the business, is signed to Sir Elton's record label and will support the multi-millionaire rock star on Sunday.
The two met a year ago and Ed was blown away.
"If you're thinking of people in the world, charismatic male stars, people who write and sing timeless, classic pop songs. . . well, it doesn't get better than Elton, does it?"
Ed was signed to Rocket Management and in the past few weeks has been speaking regularly with the legendary writer.
"He called me three times yesterday, he just wanted to check on a bunch of stuff," says Ed.
"We were up at the house, in Windsor, having dinner. Elton can just talk and talk and talk about music, he knows it all, it's like he wrote the rule book. But he's very much a regular guy. The more celebrities you meet, the more you realise you are venturing into that world.
"When I first met him a year ago, I was very deferential, but you get over that.
"You don't treat people differently because of who they are and we take the mick out of each other.
"People like him appreciate that more than if you suck up to them."
Ed was asked by Sir Elton to open his show at the Greenhous Meadow Stadium: a concert that fans have been looking forward to for months.
Sir Elton announced his summer dates around the same time as releasing his most recent album, the critically-acclaimed The Union, with Leon Russell. The duo have been friends for many years and both described the recording sessions as being among the most enjoyable of their careers.
Sir Elton is also playing Northamptonshire and Sussex, having previously graced the grounds of Northamptonshire's Castle Abbey in 2000 and sold out Hove's County Ground back in 2006.
Surprisingly, Sunday's concert is not sold out – although tickets will set you back more than £80 per person.
Over 1,500 parking spaces have been allocated for concert goers in and around Greenhous Meadow in a bid to ease congestion on the day.
A spokesman for the venue said: "With an expected attendance of 16,000 it will be the biggest music concert ever to be held in Shropshire and ticket holders are advised to allow extra time for their journey."
A drop off point is located just off Oteley Road, following the Bannytynes Health Club entry and exit route.
The rear acces gate to the stadium, behind Sainsburys, will be closed for this event.
The concert is due to start with Ed Drewett at around 6pm with Sir Elton expected on stage at 7pm.




da news.bbc.co.uk

Shrewsbury set to benefit from Elton John concert


Elton John will be heading to Munich following his Shrewsbury gig
Shrewsbury Town's staging of an Elton John gig on Sunday is set to provide a major financial boost to the region.
"It's taken meticulous planning, but everyone at the club's pitched in to make it work," operations manager Ian Bebbington told BBC Radio Shropshire.
"The team have employed local businesses in crane hire, forklift hire, and all the stewards on the day, while hotels will benefit too."
The concert will be the first to be held at the Greenhous Meadow stadium.
The club has been looking to maximise revenue at the stadium since leaving the old Gay Meadow in 2007 and the concert is their biggest venture yet.
Income from staging the event and from ancillary sales around the ground will boost the club's coffers on a scale unimaginable at the cramped old ground, and Shrewsbury are looking to make the Greenhous Meadow a regular music venue. Shrewsbury have shown they're very capable of putting on more events
Venue manager Mark Wooliscroft
"Shrewsbury have shown they're very capable of putting on more events," said venue manager Mark Wooliscroft.
John is using the town as a warm-up before embarking on a European tour that takes in Germany, Turkey and Italy.
A huge stage brought in on six trucks was constructed at the ground, and the pitch was covered by carpeting specially designed for sports venues that allows the grass to breathe.
Extra seating has been installed, and around 17,000 music fans will fill the stadium.
"Shrewsbury Town have done a fantastic job, especially as it's their first go at it," Wooliscroft added.
The Greenhous Meadow is one of three sports venues for John this summer, along with the Sussex and Northampton county cricket clubs.
His love of football is well-documented since he became chairman of Watford in 1976, where he appointed future England boss Graham Taylor as manager and invested large sums of money as the club rose three divisions into the old first division.
That same year, he also became co-owner of North American Soccer League side Los Angeles Aztecs, helping the club to sign superstar George Best.



da www.shropshirestar.com

Rocket Man lands in Shrewsbury


Sir Elton John rocked Shrewsbury's Greenhous Meadow stadium with two-and-a-half hours of his greatest hits.
The Rocket Man kicked off with Funeral for a Friend and went through some of his best-known songs, including Candle in the Wind, Saturday Night's All Right (For Fighting), Are You Ready For Love? and Your Song.
The star, who arrived by helicopter about two hours before the concert began, thanked his fans for supporting him over the years, and paid tribute to Shrewsbury Town for letting him use their stadium.
Sir Elton told the 16,000-strong crowd that he wished the Shrews well for next season and hoped they would win promotion.
Full review and more pictures in today's Shropshire Star