Giacche Di Pelle

Leather Jackets


Preghi qualcun altro
AllorchŔ sei rinchiuso nel rock
L'etÓ dell'oro Ŕ morta e sepolta?
Le lancette sono incollate all'orologio
Puoi parlare alle ossa di Buddy (1)
Quando metti su un quarantacinque giri?
Il re non Ŕ morto, sta solo dormendo
In qualche posto nell'adilÓ

E guarda quei ragazzi in giacche di pelle
Seconda pelle che non sbiadisce
Alle ragazze amanti del pericolo piacciono le giacche di pelle
Fanno suonare sempre lo stesso disco "That'll Be The Day" (2)
Giacche di pelle, "That'll Be The Day"

Noi tutti abbiamo il bisogno di assaporare il calore di un motore
Si sa che le cose vanno meglio con le cromature (3)
Memphis Ŕ reale o Ŕ solo una canzone
Tremila miglia da casa
Fai il figo alla moda, non lavorare
Quando la moda ti cambia
Mantieni la fede, non sprecare
Una moneta in pi¨ su un altro nome

E fai delle auto elaborate un idolo
Come i taxi e le decapottabili
L'eternitÓ Ŕ proprio lungo la strada
Stanno cercando altri viaggiatori


Do you pray to someone new
When you're locked up in the rock
Is the golden age dead and gone?
Are the hands stuck on the clock
Can you talk to Buddy's bones
When you spin a forty five?
The king ain't dead, he's just asleep
Somewhere in the after life

And look at them boys in leather jackets
Second skin, not fade away
Danger girls love leather jackets
Play back to back, and that'll be the day
Leather jackets, that'll be the day

We all need to smell the heat
You know that things go better with chrome
Is Memphis real or just a song
Three thousand miles from home
Be a cool jerk, don't work
When fashion makes you change
Keep the faith, don't waste
Another nickel on another name

And idolise twisted cars
Like taxi cabs and spiders
Eternity's just down the road
They're looking for more riders
testo di Bernie Taupin (dall'album Leather Jackets, 1986)
Traduzione di Ermanno Tassi 05/14 revisione 2018

1) Si riferisce al cantante di rock'n'roll anni '50, definito anche il re, Buddy Holly, morto giovane in un incidente aereo con altri musicisti, durante un tour, una delle figure pi¨ importanti del primo rock. Nella famosissima canzone American Pie di Don McLean il giorno della sua morte viene definito come "il giorno in cui il rock Ŕ morto".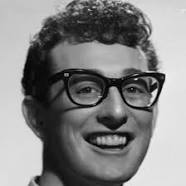 2) to play back to back = suonare sempre lo stesso disco; That'll Be The Day Ŕ stato un grande successo postumo di Buddy Holly
3) Chrome = auto e moto con molte e vistose cromature in voga negli anni '50 e '60.

ę 1986 Big Pig Music Limited