Elton John & Ray Cooper
Dublino (Irlanda) -
02 Arena
15.12.2010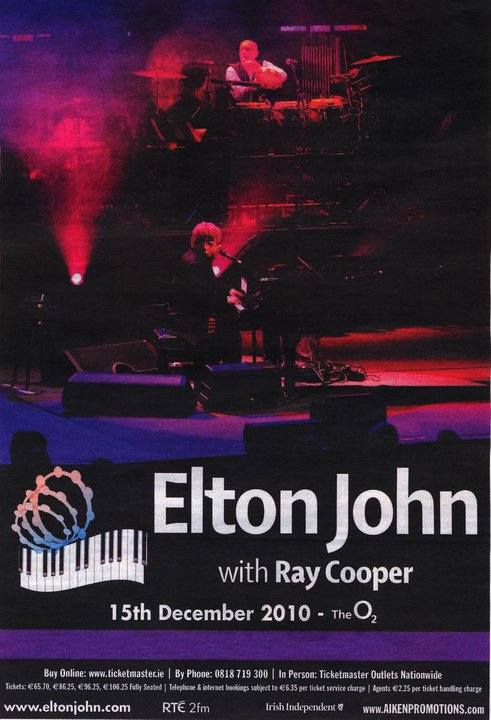 ---
Elton solo piano
The One
Sixty Years On
The Greatest Discovery
Border Song
The Ballad of the Boy in the Red Shoes
When Love Is Dying
I Guess That's Why They Call It The Blues
Rocket Man
Nikita

Never Too Old ( to hold somebody )
Tiny Dancer
Philadelphia Freedom
Your Song
Elton with Ray Cooper
Funeral for a Friend
Tonight
Better Off Dead
Levon
Gone to Shiloh
Indian Sunset
I Think I'm Gonna Kill Myself
Daniel
Sorry Seems To Be The Hardest Word
Take Me To The Pilot
Don't Let The Sun Go Down On Me
Bennie And The Jets
Crazy Water
Elton solo piano
Candle In The Wind





Eccomi di ritorno dal ghiacciato concerto di Dublino. Un buon concerto, in una città splendida. La voce di Elton era un pochino stanca, come immaginavo dopo un anno pieno di live, ma lo standard si è confermato ottimo. Mi è piaciuto molto sentire When Love is Dying dal vivo, anche se l'assenza dei cori, che (mi) rendono più bella la canzone, si è fatta sentire. Particolarmente bella Indian Sunset, eseguita meglio dei concerti italiani, con dei virtuosismi inaspettati veramente emozionanti. E tutti sanno quando con Indian Sunset per me si tocchi il massimo dei concerti con Ray. Il pubblico era coinvolto, ma un po' freddo tant'è che sotto al palco non eravamo moltissimi. I posti in prima fila erano ottimi anche se spostati sulla destra (credevo fossero più centrali), in pratica eravamo di posto come al concerto di milano del 2009. Abbiamo scritto un cartellone a Elton con scritto "From Italy With Love - Just For You" . E solo dio sa l'odissea per scriverlo . Finale concerto con Candle (solo Elton) molto emozionante, anche se il mio finale preferito rimane quello di Napoli, con Circle of Life / Can You Feel.
Piccolo appunto personale: in molti mi avevano detto che all'estero i concerti di Elton sono MOLTO diversi da quelli italiani. Questo non è stato molto differente, solito urlo del pubblico alle varie nikita, daniel, guess, sorry ecc... L'unica differenza positiva è che Elton parla di più . Location bellissima (ho appreso che l'O2 arena di Dublino è un ex cantiere navale) e arena strapiena. Security semplicemente FANTASTICA, altro che in Italia. Uno ci ha fatto le foto con la nostra macchinetta e un altro addirittura cantava a squarciagola le canzoni e seguiva il tempo con il piede ... che bello, questi in Italia ce li sogniamo! Poi per una volta finalmente non hanno rotto per andare sotto il palco, mi sono fatto uno scatto di 10 metri senza il minimo problema. Evidentemente la security straniera è molto più intelligente di quella italiana, almeno da capire che noi fan non vogliamo fare niente di male! Infatti, fortunatamente, eravamo proprio davanti a Elton per il finale, anche se il palco sarà stato alto 1.90mt . Detto questo rimango molto soddisfatto della trasferta e si parte con l'organizzazione della prossima . Grande Elton!!!!!

Snake
---

da www.state.ie

di

Jennifer Gannon

Arriving onstage to the strains of the most ridiculous, bombastic introduction music since Julie Andrews twirled around on a mountain top, Queen Elton bows taking his applause before turning to show off his jacket, a bedazzled affair depicting young Elt climbing out of the jaws of a crocodile, as entrances go it's hardly subtle, he might as well have lowered a flashing neon sign onto the stage that read "fuck off I'm Elton John' but we wouldn't have him any other way.

Sadly this delightful camp frippery dissolves as soon as the knuckles are cracked and the first chords ring out around the packed stadium. As it is Elton alone with his piano onstage it's a muted beginning offering up a selection of songs from his Elton John album then a stark, effecting tribute to early AIDS sufferers 'The Boy in the Red Shoes' before launching into a scorching rendition of new track 'When Love is Dying', his voice cracking with emotion in the darkness, it's hardly a festive affair. The idea of him breaking into 'Step into Christmas' is but a foreign memory by song two.

Yes, Elton is a serious artist with over three decades of superb work and has survived many a tumultuous time and as an artist he is obviously allowed to indulge in this side on occasion, he is no-one's performing monkey but he is also, let's not forget, the man that understands the joy of pop. He is a man that created possibly the best break up song since 'I Will Survive' with 'I'm Still Standing' the man with the ludicrous stage shows that has inspired a myriad of artists to delight in their creative whims, most noticeably Lady Gaga, he was the man that wore a Donald Duck suit onstage. Complaining about The X Factor and its preening karaoke kids this year solidified his image as a sour pop culture commentator that is becoming sadly out of touch.

The best way for Elton to debunk this theory would perhaps not be by playing a po-faced ten minute opus about the American Civil War. It would be to create a fantastic unifying pop song that would expose the preening painters and decorators for the sham artists they are. The cross sections of ages in the audience are proof that he still has the capacity to do just that. When he does eventually acknowledge the audience with an 'I Guess That's Why They Call It the Blues'/ 'Rocket Man' double whammy there is a bizarrely subdued response. Perhaps the audiences taking their cues from the artist were apprehensive to show their appreciation for 'the hits'. Compared to the rabid, devoted insanity of your average Macca audience Elton's fans are an odd bunch. You'd find more atmosphere in A&E on a Friday night.

When the beginnings of a sing-along to 'Nikita' breaks out necks whip round as if someone has shat in their seat. It's like an arena full of prune mouthed Frames fans, bar a pocket full of dedicated guys in the front row who leap to attention every time Elton shuffled in his seat; fun was unfortunately not high on the agenda. This is a shame, as when he launches into a blistering finale of 'Bennie And The Jets' under a montage of pop art visuals from throughout his career and some audience members rush to their feet it feels as triumphant and intoxicating as it should have been. Unfortunately it's too little excitement too late.





da www.irishtimes.com

di Brian Boyd



02 Dublin

If there is a piano-playing version of prog rock, then Elton John visited that place a good few times during his show. Some of the instrumental songs lasted a fair old duration as he threw in all manner of quirky chords and embellishments.

Introductions would get teased out and musical culs-de-sac would be ignored as he seemed intent on creating these mini-symphonies.

But for every longueur on the night there were also some enlightening versions of some of his greatest work: Daniel, Your Song, Sorry Seems To Be The Hardest Word and the much-underrated Tiny Dancer. With no backing band and just his piano, this stripped down approach allowed him to really get to the core of these songs and his voice was generally superb. He may not be able to scale the high notes like he used to, but there's a richer timbre there now which only adds to the vintage appeal of his earlier work.

For almost the first hour and a half, it was just him at the piano with a minimal back-drop and the audience played along with the generally hushed atmosphere by remaining quietly rapt. What didn't help though was the frequent appearance (on digital audio tape presumably) of swishy strings in the background – the kind of string sound that makes you think the "atmospheric" dry ice can't be far behind.

But the show went into another gear when the virtuoso percussionist Ray Cooper (who's been playing with Elton – on and off – for decades now) appeared. With a huge array of instruments at his disposal, Cooper gave the hitherto sparse show an almost fringe-theatre-like look and sound. There is a delight to be had in just how well the two of them mesh their sounds – and how different an impulse Cooper gives to the music.

Not the most talkative of performers, John trawled through his many musical "eras" and with the new material there is a sense that he is intent on rescaling the heights he previously reached with work such as Tumbleweed Connection . And for every meandering and nonsensical boogie-woogie piano run there was something like a belting version of Philadelphia Freedom to more than even out the score.



---