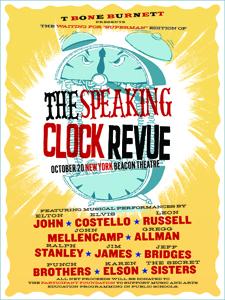 Beacon Theatre
New York 20 ottobre 2010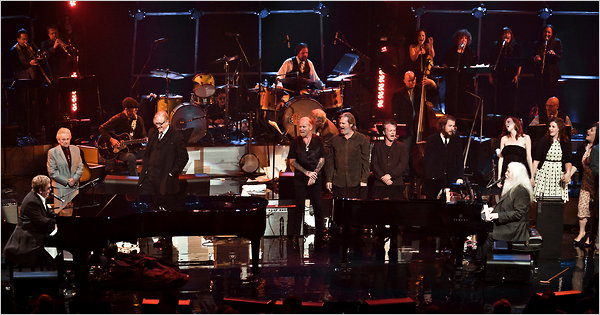 da /www.waitingforsuperman.com

The Speaking Clock Revue: Concerts Inspired by the Film
T Bone Burnett collaborates with an all-star line-up to play in Boston and New York.
T Bone Burnett will premiere The Speaking Clock Revue – a multi-artist concert extravaganza – on October 16 at the Wang Center in Boston and October 20 at the Beacon Theater in New York City. Both evenings of the Revue will feature performances by Elton John and Leon Russell, John Mellencamp, Elvis Costello, Gregg Allman, Ralph Stanley, Jeff Bridges, Punch Brothers, Karen Elson and the newcomers, The Secret Sisters. Neko Case and Jim James from My Morning Jacket will join the lineup in Boston and New York respectively.
This edition of The Speaking Clock Revue is presented with Participant Media in conjunction with the release of the documentary film Waiting For "Superman." All net proceeds from these shows will be donated to The Participant Foundation to support music and arts education programming in public schools.
Burnett's decision to join with Participant Media to donate all net proceeds from the concerts came after he saw an early screening of Waiting for "Superman". As he explains, "This film deals most powerfully with the troubling state of public education in the United States, and offers solutions and the opportunity to be part of those solutions. I am so very grateful to the musicians who are giving so generously of their time and talents for these shows, and for joining with the Participant Foundations to work for a better world."
T Bone Burnett is a 10-time Grammy Award winner whose 40 years of experience in music and entertainment have earned him an unparalleled reputation as a first-rate innovative artist, songwriter, producer, performer, concert producer, record company owner and artists' advocate.

da www.examiner.com del 21.10.2010


T Bone Burnett brings 'The Speaking Clock Revue' to the Beacon
di Jim Bessman


The pairing of Elton John and Leon Russell was the marquee attraction, what with their new album The Union garnering much notice. And sure enough, the piano-playing pair's six-song closing set at last night's The Speaking Clock Revue show at the Beacon Theater was grand.

But the high point really came halfway through the first set, when emceeElvis Costello outlined event producer T Bone Burnett's 30-year background in films, then brought out Jeff Bridges, whom he worked with on the music side on the unforgettable films The Big Lebowski and last year's Crazy Heart. Bridges' Kris Kristofferson-like performance of the latter's key song "Fallin' & Flyin'" was right out of the movie; when Costello and Burnett traipsed out together playing guitars after the first verse the moment was magical and consecrated by Bridges' recognition of the duo as the Coward Brothers--the name they've used for their many music collaborations.

Burnett, of course, had a hand in producing nearly every artist on the bill starting with Costello, who opened the evening with "Brilliant Mistake," from his Burnett-produced 1986 album King Of America. Indeed, Brooklyn's progressive acoustic group the Punch Brothers, who followed, and English singer-songwriter Karen Elson were about the only artists on the bill who haven't worked with him--at least for now.

For the most part, every artist did two songs, mostly backed by "The Speaking Clock Revue Ensemble" led by guitarist Marc Ribot and featuring guitars, pedal steel, mandolin, upright bass, keyboards, banjo and two drummers (including the great Jim Keltner). Not everything worked: Roots-pop duo the Secret Sisters' version of Johnny Cash's "Big River" was drowned out by a big wall-of-sound arrangement additionally buttressed by the Punch Brothers.

The ensemble wisely let well enough alone during My Morning Jacket's Jim James' solo acoustic songs.John Mellencamp, however, ably played it both ways. Accompanied by his splendid guitarist Andy York, he rocked solid with the ensemble on "Troubled Land" (Elson adding backup vocal support) and then did a beautiful solo acoustic turn on "Save Some Time To Dream," which he prefaced with a pointed dedication to America's children "and the education they're not getting."

Education was Burnett's motivation for staging The Speaking Clock Revue, which also played Boston on Oct. 16. Presented with Participant Media in conjunction with the release of the Davis Guggenheim-directed documentary film Waiting For "Superman"--which explores innovative approaches by education reformers--the concerts are raising money for The Participant Foundation to support music and arts education programming in public schools.

Burnett outlined the cause while the set was changed for the John/Russell finale. The two then strode to their opposing pianos and commenced their spectacular The Union mini-set, the ensemble broadened by a four-piece horn section and four female backup singers. The standout was "Gone To Shiloh," a Civil War-themed song that featured Beacon Theater favorite Gregg Allman, who closed the first set, on guest vocals.

Extra credit should go to ringmaster Costello, who's practically made a side career out of hosting such events, not to mention his Spectacle: Elvis Costello With…. TV series. Besides his own stellar performances (some from his forthcoming Burnett-produced album National Ransom), he kept the proceedings wittily rolling along, then turned serious in introducing 83 year-old Ralph Stanley.

Calling himself "a visitor in your country" who frequently courts criticism for speaking his mind on American issues, Englishman Costello proudly made note of his two New York City-born sons and guaranteed that they would be "raised right" by learning to always love and respect bluegrass legend Stanley.

Accompanied by his longtime guitarist James Shelton, Stanley sang some of his classics, capped by "Man Of Constant Sorrow," the key song from O Brother, Where Art Thou?, in which he starred. And who produced that movie's celebrated soundtrack? T Bone Burnett, of course.



Dal Wall Street Journal
Elton John, Gregg Allman, Jeff Bridges, Elvis Costello, John Mellencamp and Leon Russell at the Beacon Theatre in New York City on October 20.
While some 1,200 bands were careening around New York City in hope of career advancement during the annual CMJ Music Marathon, a collection of veteran rock and bluegrass stars, promising newcomers and some of today's best musicians were on stage at the Beacon Theatre on Broadway. On Tuesday evening, Elton John and Leon Russell introduced their new album, "The Union," and last night, T Bone Burnett led John, Russell and a squadron of artists in what he calls The Speaking Clock Revue.
Last night's event was a fundraiser for Participant Foundation, which is dedicated to supporting arts and music education in public schools. But it was also a tribute to record producer Burnett and his house musicians, including drummers Jay Bellerose and Jim Keltner, guitarist Marc Ribot and bassist Dennis Crouch, who learned 60 songs to work both gigs. Many singers who fronted the band performed songs they recorded with Burnett and his mates.
Elvis Costello, who also served as the revue's master of ceremonies, offered "Brilliant Mistake," a song he released in '86, and "A Slow Drag with Josephine" from his forthcoming album "National Ransom." Both were produced by Burnett, as was "Low Down Country Blues," a disk from Gregg Allman to be released early next year. Recovering from liver-transplant surgery, Allman was much thinner than in recent years, but his raspy-blues voice was true. The Beacon Theater is the Allman Brothers Band's home away from home – Allman let slip they'll return next March for another long stint – and the crowd welcomed his new material. But when he played his chestnut "Midnight Rider," they roared in appreciation.
With the Ribot-led band at their backs and Costello waving the performers to center stage, the revue never seemed harried or too much of a good thing. Tanned and in bright spirits, John Mellencamp visited his Burnett-produced "No Better Than This" and Jeff Bridges, borrowing a Gretsch electric guitar from Jackson Smith, performed two songs from the soundtrack from "Crazy Heart," produced by, you guessed it, T Bone Burnett.
Introduced by Costello as "America's greatest country singer," 83-year-old Ralph Stanley delivered bluegrass and gospel with his miraculous quivering voice, ending his brief set with "Man of Constant Sorrow" which was featured on the Burnett-produced soundtrack to the Coen Brothers' film "O Brother, Where Art Thou?" Though Ribot excelled – he opened the revue's second half with a knotty solo rendition of "Don't Blame Me," a song Rudy Vallee popularized in the '30s – perhaps the night's best performance on guitar was turned in by James Shelton, Stanley's long-time sideman who, in a quiet, unassuming way, flatpicks so deftly that it seems as if there's another invisible guitarist nearby.
Not-so newcomers like the dazzling, Chris Thile-led bluegrass quintet the Punch Brothers and Jim James of My Morning Jacket – neither of whom has had an album produced by Burnett – worked without the house band, and James's solo version of MMJ's "Wonderful (The Way I Feel)" was particularly affecting. With striking poise, Karen Elson showcased two songs from her debut disk "The Ghost Who Walks." She and the Secret Sisters, who seemed giddy with delight, provided background vocals for Costello and others, giving the revue a sense of shared adventure. The Punch Brothers backed the Secret Sisters, whose Burnett-produced debut was released last week.
The evening's climax was the return of Elton John and Leon Russell. Not only a return in the sense that Russell has been away from the spotlight for decades – his career has already been rejuvenated by the John-Russell album "The Union," produced by Burnett – but it was a return to the stage the two singer-pianists occupied the night before, fronting the same band, featuring Burnett's players augmented by a four-piece brass section and a four member soul-gospel choir. With Bellerose working the toms with mallets, Russell and John pounded out six songs from their new album – on "Gone to Shiloh," Gregg Allman filled in for Neil Young, who sings on the disk – and the entire ensemble returned to sing a seventh track from the disk, "There's No Tomorrow."
On the previous night, Russell opened the show with a review of his bygone hits including "Song for You" and "Delta Lady" before being joined onstage by John, who blew him a kiss and beamed as he watched the white-haired Russell at the opposite grand piano. (For more on how Elton John helped Leon Russell return to the spotlight, click here.) The duo played "The Union" in order from start to finish, thus concluding with Russell's "In the Hands of Angels" in which he thanks John and Burnett for reviving his career.
But Elton John had more to say. When he returned to the stage for his solo set, he revisited songs to commemorate his 40 years of performing in the States, playing from his 1970 albums "Your Song," a lengthy "Take Me to the Pilot," "Burn Down the Mission" and a scorching "Ballad of a Well-Known Gun" featuring a biting Ribot solo. John is clearly thrilled by the reaction to Russell's return: "Thank you for making this a party like I hoped it would be," he said of the Beacon concert. But his set, backed by an aggressive, inventive collection of superb musicians, demonstrated that he too is in a period of revival. Burnett's kind of organic music suits him just fine. When he sang a wall-rattling version of the self-deprecating "The Bitch is Back," Elton John was making a statement that seemed truer than it has in decades
.

da www.nytimes.com del 22.10.2010


Kindred Spirits, Young and Mature
di John Pareles


T Bone Burnett didn't perform much in the Speaking Clock Revue, the rootsy benefit concert at the Beacon Theater on Wednesday night. It featured musicians he has produced as well as kindred spirits: the duo of Elton John and Leon Russell, Gregg Allman, John Mellencamp, Elvis Costello, Jeff Bridges, Jim James of My Morning Jacket, Karen Elson and the bluegrass patriarch Ralph Stanley.


While Mr. Burnett was largely offstage, his musical and intellectual signature was all over the concert. It was a benefit for the Participant Foundation, which supports music and arts education and is associated with "Waiting for 'Superman,' " a documentary about schools.

Mr. Burnett gets songwriters to think about mortality, spirituality, history, heritage and ends of eras, and he places their voices amid vintage sounds that are tweaked to be vivid rather than strictly authentic. As a film music supervisor, most notably for "O Brother, Where Art Thou?," he's an Americana auteur, finding dark, strange, thoughtful and rocking songs from across decades and genres. Yet this was no oldies show. Mr. Costello and Mr. Allman sang material from their coming albums, and Mr. Mellencamp and the John-Russell duo drew on albums just released this year, all produced by Mr. Burnett.

To start the show Mr. Burnett appeared in his preacher's coat and reeled off dozens of digital-era buzzwords, only to dismiss them: "Never mind about all that, here's some music." Then Mr. Costello took over as the show's M.C., amiably chatting through equipment changes. The instruments were hand played, and the voices of the headliners were proudly weathered. They were backed by a house band, led by the guitarist Marc Ribot, that many of them had seen in the studio with Mr. Burnett.

The songs were serious, which didn't mean they were dull. It was a concert of murder ballads and pleas for redemption, tall tales and tales of sorrow. Youthful verve — the breakneck bluegrass picking and warped traditionalism of the Punch Brothers, delicately harmonized and rocked-up versions of Bill Monroe and Johnny Cash songs by the Secret Sisters — was juxtaposed with the burdens and lessons of age.

Mr. John and Mr. Russell's new songs looked to history and literature as their miniset worked up from cinematic anthem ("Gone to Shiloh") to rumbling, four-fisted honky-tonk gospel ("Hearts Have Turned to Stone"), matching Mr. Russell's feisty cackle to Mr. John's earnestness. "The West End," Mr. Mellencamp's song about urban decline, became a stomping indictment. Songs from Mr. Costello's next album, "The National Ransom" had a jaunty vintage swing and torrents of unfamiliar words to digest.

Mr. Allman, who had a liver transplant in June, brought a frayed, sometimes otherworldly tone to his bluesy "Floating Bridge," about facing death. Mr. Stanley, 83, made "Man of Constant Sorrow," a song he has been singing for six decades, both weary and steadfast. Mr. James was aspiring to that otherworldliness, in two quietly reverent solo songs. Ms. Elson sang gently, to Appalachian-style tunes, about a homicidal lover and visions of apocalypse.

Mr. Burnett made his appearance to sing backup (along with Mr. Costello) for Mr. Bridges, whose performance as a country singer in "Crazy Heart" brought Academy Awards to them both. Mr. Bridges easily had enough grit in his voice for songs from the movie. And Mr. Burnett returned for the group finale, a waltz like a late-night bar singalong that, true to Mr. Burnett, had time and mortality in mind. "There's no tomorrow," the assembly sang. "There's only today."




da Rolling Stone

Live Report: T-Bone Burnett Leads All-Star Speaking Clock Revue

di David Fricke

In 1975, T-Bone Burnett hit the road as a cast member, way down on the bill, singing and playing guitar in Bob Dylan's mobile song circle, the Rolling Thunder Revue. On October 20, at New York's Beacon Theater, Burnett — now a very busy and successful record producer — was the boss and headliner of his own living jukebox, the Speaking Clock Revue, a three-hour spin of singers mostly performing songs produced for them by Burnett. The lanky Texan was barely on stage himself: he made a quick appearance with his emcee, Elvis Costello, both in their Coward Brothers disguise, to harmonize behind Jeff Bridges in "Fallin' and Flyin'" from the Crazy Heart soundtrack; and gave a few words about the recent documentary Waiting for Superman and the perilous state of education in America. (The show was a benefit for the Participant Foundation, which promotes music and arts classes in public schools.)

But the social urgency, emotional complexity and folk-blues authenticity Burnett pursues in the studio was evident all night on stage, even when Karen Elson sang a couple of numbers from The Ghost Who Walks, which was produced by her husband Jack White, and Jim James of My Morning Jacket jolted the first set with his stark mix of clear high pining and brusque acoustic guitar. The bluegrass patriarch, Dr. Ralph Stanley, was singing "Man of Constant Sorrow" before Burnett was born — for 64 years, Stanley noted proudly — and when he sang it again tonight, in a grainy fluttering voice that showed his age but also his resilience, he illuminated the long unbroken road between his first records and Burnett's work.

Costello started the night with some affectionate irony, playing "Brilliant Mistake" from his 1986 Burnett-produced album, King of America. The opening line: "He thought he was the King of America." But as Costello drew from his latest album with Burnett, National Ransom (including the '78 Attractions-meets-barn dance charge of the title track), John Mellencamp veered from the heavy turbulence of "Troubled Land" to the solo plea "Save Some Time to Dream" and Burnett's latest protegés, the Secret Sisters, covered Johnny Cash and Bill Monroe with sharp, arcing harmonies and youthful brawny delight, it was hard not to believe that Burnett is running things right, on his chosen turf.

Burnett made sure singers moved quickly through the two sets, using a house band composed of his usual session cats and led by guitarist Marc Ribot. At one point, the Punch Brothers, the fine, brash bluegrass outfit featuring singer-mandolinist Chris Thile of Nickel Creek, kept the music going, ripping through Jimmie Rodgers' "Brakeman's Blues" as roadies set up the grand pianos for Elton John and Leon Russell's set of songs from their Burnett-produced record, The Union. Gregg Allman, who debuted material from his forthcoming solo album, seemed tentative between songs, even a little naked without his usual band. He thanked the anonymous donor of his new liver — he had a successful transplant in June — in a soft voice. But Allman found his strength in a cover of Muddy Waters' "I Can't Be Satisfied" and made an affecting cameo during John and Russell's "Gone to Shiloh," taking the verse Neil Young does on The Union.

John and Russell only reprised half of their record, which they did in its entirety the previous evening. But it was time enough for the funky regret of Russell's "If It Wasn't for Bad," the Seventies-Stones jollies of "Monkey Suit" and the double-piano gospel-choir stampede "Hey Ahab." The finale was basically a group bow, with Burnett, to The Union march "There's No Tomorrow." When Stanley came out, he stood near the wings, away from the younger folks on the other side of the stage, as if he wasn't sure he fit in their company. But then as everyone walked off, Burnett came over and draped an arm over the smaller 83-year-old man — the picture of an odd couple that made a perfect match.