Il 19 ottobre 2010, in occasione del lancio sul mercato americano del nuovo album The Union, Elton John e Leon Russell hanno suonato in anteprima il loro lavoro integralmente al Beacon Theatre di New York, accompagnati dalla band che ha inciso le canzoni in studio. Lo spettacolo è stato integrato da un set del solo Leon e da uno di Elton, con alcuni dei loro brani storici. Lo show è stato trasmesso in diretta dalla TV via cavo Fuse. Sempre al Beacon Theatre, la mattina seguente Elton e Leon si sono esibiti live in diretta per la trasmissione Good Morning America, famosa trasmissione trasmessa alla ABC. Ma non è finita, perchè, il giorno successivo, hanno partecipato, sempre al Beacon Theatre, allo show itinerante messo in piedi da

T Bone Burnett

(il produttore dell'album),
The Speaking Clock Revue, con altri artisti prodotti da Burnet.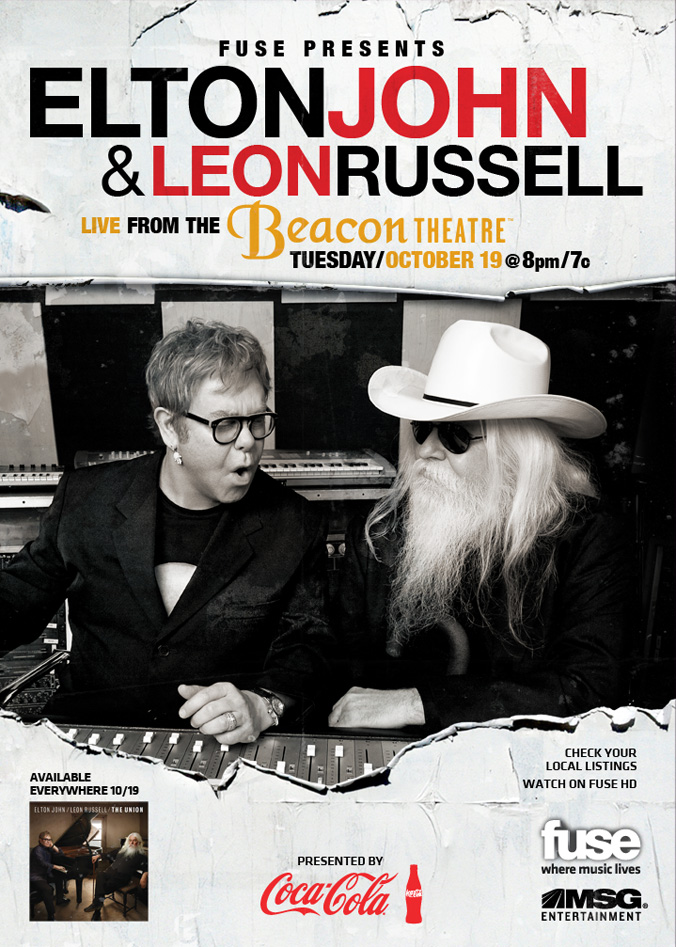 Leon solo:
Tight rope
Prince of Peace
Song for You
Delta Lady
Roll in My Sweet Baby's Arms
Stranger in a Strange Land
Elton & Leon:


If It Wasn't for Bad
800$ Shoes
Hey Ahab
Gone to Shiloh
Jimmie Rodgers' Dream
There's No Tomorrow
Monkey Suit
Best Part of the Day
A Dream Come True
I Should Have Sent Roses
When Love's Dying
Hearts Have Turned to Stones
Never Too Old Old
In the Hands of Angels
Elton solo:


Burn Down the Mission
(devastante con cori gospel e sezione fiati)
Levon
Tiny Dancer
(accompagnato dalla chitarra steel!)
Ballad of A Well Known Gun
(Ribot con assoli di chitarra leggendari, meglio della versione su Tumbleweed)
I Guess That's Why...
(versione rock con assolo di mandolino!)
Your song
(con metà canzone di solo piano voce e contrabbasso)
Take Me to the Pilot
Sad Songs
(con le coriste e i fiati è tutta un'altra musica...)
The Bitch is Back
Elton & Leon
Hey Ahab


Well, in a word, "BRILLIANT"!!!! A once in a lifetime show. For those who were able to watch it live on the FUSE network, you already know what I'm talking about. It will be re-broadcast on FUSE on October 24th. I'm told that there were some microphone issues in the very beginning of the broadcast. There were none in the theater, so hopefully, that will be fixed on the re-broadcast.Elton came out to HUGE applause and a standing ovation. He told us that first Leon would play some of his own songs, then they would play the ENTIRE new CD, The Union, and then Elton would play a set of his own songs. He said that this would be one of only 2 times that they would play the entire CD. He then introduced Leon Russell. As Leon took the stage, he and Elton embraced, Elton left, and Leon started his set. SInce I was facing Elton, I could only see the back of Leon's head. He appears to have the same hairstylist as Santa Clause. MAN can that guy play the piano! His style is, in many ways, similar to Elton's. He has a lighter touch, but still uses the piano as a percussion instrument (it is one). VERY catchy songs... some familiar, others not, but still earning him standing ovations after several numbers. I couldn't see his facial expressions, but I honestly don't think he had any. He just sat there, played the piano, and sang. Never said a WORD to the audience! To paraphrase from a quote about US President Calvin Coolidge, "Leon... he don't say much. But when he does... he don't say much." But when he writes a song, BOY does he say a lot! Some brilliant lyrics in there. I really need to listen to some of his CDs.Leon has a nasal, reedy voice that I honestly don't like much, but when combined with the likes of Elton, it sounds far better. Leon really got the crowd going on a couple of his songs. More than just a warm-up act... he is a pro, and a great songwriter. It was obvious from the crowd reactions that most people were there to see Elton, but Leon also had his fans present. Many were singing and dancing to Leon's set.
Leon's setlist was as follows:
Tight rope
Prince of Peace
Song for You
Delta Lady
Roll in My Sweet Baby's Arms
Stranger in a Strange Land
When Elton took the stage, things really started to pick up. They played the full CD, as promised, in running order. Starting off with "If It Wasn't For Bad", and playing all the way through to "The Hands Of Angels".
Their setlist of songs performed together was:
If It Wasn't for Bad
Eight Hundred Dollar Shoes
Hey Ahab
Gone to Shiloh
Jimmie Rodgers' Dream
There's No Tomorrow
Monkey Suit
The Best Part of the Day
A Dream Come True
I Should Have Sent Roses
When Love Is Dying
Hearts Have Turned to Stone
Never Too Old (To Hold Somebody)
In the Hands of Angels
Elton's comments about that last song were that they had already finished laying down all the tracks for the CD when Leon came in the next morning and said "Wait... I wrote another song last night in the hotel. It was a tribute to working on this project together, and we were in tears". Elton was just watching Leon playing that song mouthing the words along with him. But I'm getting WAY ahead of myself.The Union is, in my opinion, one of Elton's best albums in MANY years. It has a bit of everything... gospel, country, rock, ballads... all around, an excellent collection of songs. It's obvious that working with Leon really inspired Elton to get out of his comfort zone a bit, work differently, write differently, and record differently. It's often hard to tell which songs were written by Elton and which were written by Leon. It's also hard to tell which lyrics were Bernie's and which were Leon's. It's a perfect blend of two enormous talents whose styles mesh perfectly creating a whole that is greater than the sum of it's parts. Neither one of them could have done this CD alone. There a few really great rockers on the CD such as "Hey Ahab". This song is FAR better live than on the CD! Monkey Suit had the whole audience up and dancing."Gone to Shiloh" has a gorgeous lyric by Bernie. Definitley a song I want to hear again."A Dream Come True" has the feeling of a southern (US) church on a Sunday with gospel music just pouring out of it. Hand clapping, and the gospel choir going wild...."When Love is Dying" is a beautiful ballad. Elton and Leon trade off on the lead vocals. I just can't help thinking of a line that I read in a review once. When speaking of Elton's vocals, the writer described them as "A voice from Mount Olympus". It's so true. Elton's vocals are so powerful and so beautiful. On most songs, Leon holds his own on the vocals, but not on this one. Elton just shines. Outshines Leon by far. I love the song, but it does show the weaknesses in Leon's vocals."I Should Have Sent Roses" is a terrific ballad. Leon takes the lead vocals for the first half of the song, with Elton on backups. This works really well. On the second verse, Elton takes the lead. Leon takes over again on the chorus with Elton once again singing backup. A very wise decision by producer T Bone Burnett. It makes the song work perfectly."Hearts Have Turned to Stone" has Leon's stamp all over it. Without looking at the CD notes, I am sure that Leon wrote it. An uptempo mix of country and gospel. Elton adds some terrific vocals during the chorus, but this song belongs to Leon. It was beautiful watching and hearing them perform it live. It's obvious how much respect Elton has for Leon. Neither was trying to "out-do" the other. They just blended perfectly (in most cases)."Never Too Old" is a song that I first heard Elton perform live solo on the piano. I liked it, but I didn't love it. It reminded me too much of too many other mediocre efforts of Elton's from past albums. I have to say that knowing this song as a solo, piano-vocal song definitely gave me a specific opinion of it. Mediocre. I'm happy to say that with a full arrangement and with Leon's voice on the second verse, this song really comes together. The beautiful backing vocals on the chorus, and the instrumental arrangement really adds a lot to this song. I ALWAYS prefer hearing Elton's songs with just Elton and the piano, since that is the way I perform myself. This song appears to be the one exception. It's MUCH better on the CD than live/solo."In The Hands of Angels" is a beautiful gospel song written by Leon. With the backing vocalists singing like a "choir of angels", and the church-style organ giving this song a wonderful slow, southern feeling. It's a love song to Elton by his fan, and idol, Leon.I know I've left out a couple of songs in this article. They are for you to discover on your own. It's not necessarily that I like them more or less. I just felt that I should leave something to the listener.There are 2 bonus tracks on the deluxe version of the CD/DVD. "Mandalay Again", and "My Kind of Hell".I have only seen pieces of the Cameron Crowe documentary that is on the DVD in the deluxe version. Well worth it in my opinion. Even though I haven't seen it in it's entirety yet, it promises to show a fascinating insight into Elton working in the studio and working on a collaborative effort. Things we have rarely seen about Elton before.Even after you are able to watch the live show at the Beacon Theater, I'm sorry to say that you will not have had the same experience that around 3000 of us just had. Hearing these songs live with a 15 piece band, the TV cameras rolling, and the incredible energy of both the audience and the performers is something that can only be experienced. Seeing it on DVD is never the same as being there. I just hope that the broadcast captured the fun and party-like atmosphere in this small but beautiful theater.A note about the band... they were, as Elton put it, "The crème de la crème". They learned a total of 60 songs in around 4 days! All 14 of the new songs, Leon's entire set, Elton's entire set, plus the songs that will be performed at the "Speaking Clock Revue". No small feat, but these musicians truly are the best.After playing through The Union, it was time for Elton's set. I couldn't wait to hear what he'd play. I was hoping for the best, but feared the worst. I got a lot of the former and a little bit of the latter. First, let me say that it was REALLY interesting to watch Elton play with a completely different band. Especially when using a 4-piece horn section, slide guitar, mandolin, and a double bass! You could just see how much fun he was having. He very wisely started his set with several old, some unknown (except by fans, of course), and classic songs. Leading off with "Burn Down The Mission". Nice to hear it stripped down without the HUGE band/orchestra sound. Well, 15 pieces is a pretty big band, but you know what I mean. A great choice to start off with. He continued with Levon, Tiny Dancer and Ballad of a Well-Known Gun (YES!!!). Tiny Dancer, Take Me to The Pilot, and later, Your Song were also in his set. His setlist was as follows:
Burn Down the Mission
Levon
Tiny Dancer
Ballad of A Well Known Gun
I Guess That's Why They Call It The Blues
Your Song
Take Me to the Pilot
Sad Songs Say So Much
The Bitch is Back
For some reason, as you can see by the setlist, he felt compelled to throw in "I Guess That's Why They Call It The Blues", "Sad Songs", and "The Bitch Is Back". Frankly, "Amoreena", "Can I Put You On", "No Shoe Strings On Louise", "Come Down In Time", and "Where's the Shoorah" would have been far more appropriate. The audience was obviously made up of hard-core fans. Not only did the older, relatively unknown songs go better with the new material on The Union, but the ones he did play were thrilling for all of us to hear. He could have just kept on playing oldies... both known and unknown, and still brought the house down.
When the last notes of "The Bitch Is Back" had been played, Elton took his bows, walking across the stage, waving to the balconies, and left the stage. The band also began to leave the stage, when everyone suddenly turned around and came back onto the stage with Elton escorting Leon. Elton said that they had not rehearsed an encore, so they would have to play a song that they had already played! They played "Hey Ahab" a second time. A great choice, since it had gotten everyone up and dancing the first time. The second time around was even better. The backup singers really let loose, and you could see that Elton was having the time of his life. Since the audience had already heard the song once, the entire theater was on it's feet and dancing.Toward the end of the show, Elton thanked everyone for having had the patience to listen to 14 new songs. The round of applause he received was, at least for me, for having had the privilege of being there to listen to them. I've had the entire CD for over a week now, though it was just released today, the day of the concert. Most people had never heard ANY of the songs before. It took tremendous self-restraint for me NOT to listen to the CD until after the concert. I really wanted to listen to the show with a completely fresh ear. Having now been to the show, and then listening to the CD afterwards, I'm truly glad I had the self-control not to listen to it beforehand. These songs are just dying to be played live. The love that went into writing them and working on them is crystal clear when hearing them live. Maybe it was the crowd, maybe it was the small theater, maybe it was the incredible band, or maybe it was two singer/songwriters who are mutual fans and friends performing with such joy. All I can say is that the songs all sounded very different live, and in my opinion, far, far better. Even so, The Union will be on my iPod for "a LONG, long time".
Live from New York, it's Brian Gold!10/19/10
---
da USA TODAY del 20.10.10
Postcard from the road: Elton John, Leon Russell hit the stage
A perfect Union: Veteran singer/songwriter/pianists Elton John and Leon Russell celebrate the release of their critically acclaimed new duets album, The Union, with a joint concert Tuesday night before a sold-out audience at New York's Beacon Theatre.
Behind the music: John and his longtime hero Russell, who met 40 years ago, reunited in 2009, after an emotional rediscovery of Russell's music prompted John to call him. For Union, they also enlisted John's longtime collaborator, lyricist Bernie Taupin, and uber-producer T Bone Burnett.
The crowd: For veteran fan Richard Georgeou, 66, of Hudson, N.H., it's the 82nd time he's seen John in concert. "In Boston in 1970, they announced him as Elton James." Pal Claude Bernardin, 53, co-author of the encyclopedia Rocket Man: Elton John From A-Z, loves the new album. "I will probably cry tonight."
The start: John, elegant in a long black coat, describes the night as the "culmination of a remarkable journey ... (Leon) was my idol, he was my mentor, he was everything I wanted to be as a singer/songwriter and piano player."
A grand greeting: Collaborator Russell enters to a standing ovation, goes to the piano and sings Tight Rope, Prince of Peace and A Song for You (his modern standard that's been covered by Ray Charles and Donny Hathaway), the early highlight. He switches on the boogie for Delta Lady and Stranger in a Strange Land. Pronounces John: "They love you, Leon."
Piano men: The two sit at facing pianos to play The Union more-or-less straight through, starting with If It Wasn't for Bad, featuring muscular piano and horns. They segue from Eight Hundred Dollar Shoes (a classic John-Taupin soaring ballad) into the fervid boogie stomp of Hey Ahab.
Elton's pick: John introduces the richly plaintive Gone to Shiloh as one of his favorites, a song about the Civil War. Neil Young appears on the album version, but "you're going to have to put up with me." Twangy Jimmie Rodgers' Dream is followed by the darkly soulful There's No Tomorrow.
Can you feel the love tonight: While John offers a few quips between tunes, both remain seated and express themselves through dynamic, passionate performances.
Old souls: "This is a song that might apply to Leon and myself," John jokes, introducing the stately, spirited Never Too Old (To Hold Somebody). Russell performs the gospel-flavored song that concludes the album, his In the Hands of Angels.
John's solo turn: It's just Elton and the band, singing and playing a glorious Burn Down the Mission (the crowd goes wild), Levon and Tiny Dancer— just three of John's classics on which Russell's soulful influence is clearer. It's like he's paying homage to his idol through the music.
Happy anniversary: Noting that it's the 40th anniversary of his arrival in America, John launches into a string of songs from his eponymous 1970 album, starting with Your Song and Take Me to the Pilot.
The tribute plays on: John revisits post-'70s hits I Guess That's Why They Call It the Blues and Sad Songs (Say So Much), both with a little extra kick for the occasion, bringing the crowd to its feet.
New to you: Thanking the crowd for its "time and patience" in listening to 14 new songs, John performs an exuberant The Bitch Is Back. "We haven't rehearsed an encore," he says as Russell returns to the stage, "so we're going to have to play something we played before," Hey Ahab.
Next stops: The pair's upcoming U.S. dates include Los Angeles (Nov. 3), Phoenix (Nov. 6) and Tulsa (Nov. 12).
da Rolling Stone

Review: Elton John Brings Leon Russell Back to Glory
'Tonight is an incredibly special night for me,' John tells the sell-out crowd. 'When I started Leon was my idol, mentor and everything I wanted to be as a songwriter.'
Oct 20, 2010 2:16 PM EDT
Last night's triumphant Elton John and Leon Russell show at the Beacon Theater kicked off with a moving speech by Elton about his love and admiration for his musical hero. "When I started he was my idol, mentor and everything I wanted to be as a songwriter," he told the sell-out crowd. "Tonight is very special for me." With that, Leon Russell, walking slowly, with the help of a cane, took the stage to thunderous applause and a giant bear hug by Elton. They then began a two-and-a-half-hour concert that showcased their entire new T-Bone produced album The Union, and separate solo sets that proved beyond any doubt what an incredible creative debt Elton's earliest and best work owes to Leon Russell.
Russell began the concert with a brief, six-song set of songs from his early Seventies catalog. Leon has faced a wide variety of physical problems in recent years, but his piano playing is undiminished, and his singing voice remains powerful. Songs like "Tight Rope" and "Roll In My Sweet Baby's Arm's" don't get much radio play these days, but with the backing by T-Bone Burnett's fifteen-piece studio band, they soared. Unlike Elton, Leon never transitioned into pop, and since the Eighties he has languished in obscurity on the club circuit. Last night it felt like he was resurrected.
The centerpiece of the show was a complete performance of The Union. Powered by four back-up singers, a four-piece horn section and the house band led by guitarist Marc Ribot, the songs sounded even better than they do on record. Elton and Leon have such similar styles it was often hard to tell who was playing piano. The best material on The Union ranks among the best work of either singer, particularly the Civil War epic "Gone To Shiloh." When Elton and Leon's voice merged on the line "when flags and bullets start to fly" the result was positively chilling.
Elton did most of the singing, but Leon's lead vocals conveyed more emotion - particularly on the album's closing track "The Hands of Angels." Russell penned the gospel song himself, and it was clearly a thank you to John for helping to save his career. Earlier in the set, the duo had members of the audience dancing in the aisles on the rollicking "Monkey Suit" and "Hey Ahab." John fed off the energy and was literally bouncing on his piano seat. Russell - whose long grey hair and beard make him look like a cartoon image of Father Time - barely cracked a smile all night, but it was still clear he was reveling in the long-overdue adulation.
When the album was complete, Russell left the stage and Elton lead the band through songs from his early, Russell-inspired albums. In this context it was clear that "Burn Down the Mission," "Ballad of Well Known Gun" and "Levon" could not have existed without Russell paving the way. John has focused concerts on his hits so much at times that it was a joy to hear gems from his 1970-1972 heyday, though he later obliged the audience by playing Eighties hits "That's Why They Call It the Blues" and "Sad Songs Say So Much." After a barn-burning "Bitch Is Back," Elton walked offstage and returned with Russell. He claimed they hadn't rehearsed anything else, so they played "Hey Ahab" again. As they walked offstage, hand in hand, it was hard to tell who looked happier.

dal New York Post del 20.10.2010

Rock 'Union' dear to John

By DAN AQUILANTE



It was dueling pianos at the Beacon Theatre last night when super star Elton John hooked up with his greatest musical influence, Leon Russell, for a concert that played like a sampler of musical genres from R&B, soul, gospel and country to rock.
The concert was a three-in-one affair. Russell was up first. Then he and Elton reprised much of their collaboration album "The Union," which was released yesterday. The show was topped off with a cherry set of Elton's greatest hits.
Solo, Russell, 68, is a force of nature who looks more like Jesus' dad than Santa Claus behind his platinum mane and flowing white beard.
He, along with a large, 15-piece backing band, worked the string of hits he penned over the years. There were so many recognizable tunes in the set that it served as a stunning reminder of why Elton has called Russell his biggest influence as a piano player, singer and songwriter.
"Delta Lady," Russell's first big hit, flowed seamlessly out of his well-covered ballad "A Song For You." As fine as those songs were, where Russell killed was on his honkytonk piece "Rollin' In My Sweet Baby's Arms."
Together, Elton and Leon worked the songs of "The Union" with fantastic interplay, especially on the fast tunes like the dual piano stomp "If It wasn't For Bad," "Hey Ahab" and the pedal-to-the-metal rocker "Monkey Suit."
The record is ballad-heavy, yet in concert, those slow tunes lost much of their dreariness. That was especially true of the friendship tune, "The Best Part of the Day," and the Civil War-inspired "Gone to Shiloh," both of which featured Elton in the vocal lead.
When Russell sang in front, like on "I Should Have Sent Roses," his sandpaper vocals lent those songs an appealing earthiness.
Elton closed out the night with a set of his best-known, most loved songs. Since he rarely plays a hall smaller than Madison Square Garden, this theater performance ranked as special.
Whether he was doing a country-rock number like "Ballad of a Well-Known Gun," cooing the pretty "Tiny Dancer" or playing his gospel rave "Take Me to the Pilot" alone, Elton John was stunning. He was showing off as much for the audience as he was strutting his stuff for his musical mentor.

The show was aired live on cable TV's Fuse network and will be rebroadcast Sunday at 9 p.m. and Oct. 27 at 4 p.m.