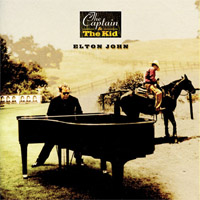 tell me what the papers say .....
MOJO
- album 4 stelle
"ELTON JOHN can, so it seems, do anything he likes. A national treasure, at almost 60 he's the nearest the rock world has to a Grade One Listed Building. After 35 years at the top, he simply cannot be touched. He can be amusingly candid about fellow pop stars without fear of censure, he can
swear on daytime television with equal impunity, he can tell of his disappointment over Live 8, and he can voice the nation's dissatisfaction with their football team with the authority of an absolute monarch.
Songs From The West Coast, Elton's dramatic return to form in 2001, saw him strip back the clunk and clatter of his '80s and '90s productions to reveal the basic sonic core of the Elton sound - piano, vocal. The strategy was continued through the less impressive Peachtree Road, and finds its natural conclusion on The Captain And The Kid, his 29th studio album of original material (the press release boasts 44, but who's counting?).
Here, Elton is in supremely confident mood, while at the sametime very unprotected indeed. In fact, there seems to be very little production on the record at all. Yet it is this, the album's major flaw, that is likely to be praised in some quarters as its greatest strength. But this isn't, as some
might claim, a return to the classic sound of the '70s. Elton's songs have often been written in frantic spells before but, in the '70s, the sweeteners and detail of the production always gave depth to the music. Today, there's a curious demo-like quality to the sound.
This caveat aside, what more than saves the day here is a better-than-good melodic performance from Elton, and an outstanding set of lyrics by Bernie Taupin. The Captain And The Kid has the sort of narrative weight seldom found elsewhere today. The concept - namely that of a sequel to 1975's "Captain Fantastic And The Brown Dirt Cowboy" - was suggested by Elton's current manager, Merck Mercuriadis. "Captain Fantastic" contained a formidable set of Elton melodies married seamlessly to lyrics which saw Taupin critique the emergent music scene of the late '60s, a time when the would-be star and the teenage lyricist broke free of the constraints of hip London with their 'tra-la-las and la-de-das'. The sequel attempts, perhaps over-ambitiously in just 10 songs, to bring the story up to date, from the
original's point of closure (roughly around the time of Elton's first album in 1969, "Empty Sky") to the present day, a present in which Taupin has become the Brown Dirt Cowboy, raising and training cutting horses on his estate in California, while Elton is nothing if not Captain Fantastic. If the original album was in part about prophecy, the sequel is a mature, and at times deeply moving, analysis of what went right and what went wrong.
The Captain And The Kid opens jauntily with Elton and Bernie's arrival in America. Postcards From Richard Nixon's honky-tonk piano run is a signature moment, Taupin's lyrics depicting the wide-eyed wonderment of their first
engagement with the American Dream during the crisis of Vietnam and Watergate. The love affair with all things American continues in the soaring ballad Wouldn't Have It Any Other Way (NYC). But it's the fourth track, Tinderbox, which is the real gem: a lyric which details the huge pressures
the partnership encountered at the very height of their international fame set to one of Elton's best ever melodies. Tinderbox is proof that, perhaps alone among his contemporaries, Elton still has the ability to write a
brilliant four-minute pop song.
Taupin is on top form throughout, smoothly weaving two or three major themes into one song, as the story of success and hedonistic excess gives way to middle age and poignant reflection on the rock business. Blues Never Fades
Away is a moving song about AIDS victims while The Bridge, lyrically the pivotal song on the album, seems to comment on the tasks faced by all music stars as they move from youthful iconicity to maturity. There's humour too:
Elton's dog, Arthur, makes a guest appearance on the bluesy rock of Just Like Noah's Ark, while I Must Have Lost It On The Wind looks back wryly on relationships (and plenty of them) which obviously came part and parcel with international fame."
---
BILLBOARD
- The Bridge
The Bridge
ELTON JOHNProducer(s): Elton John, Matt Still
Genre: POP
Label: Rocket/Mercury
Breathtakingly simple and heartfelt, "The Bridge" is Elton John's most affecting single in years. The first release from upcoming "The Captain and the Kid" (a concept album that bookends 1975's "Captain Fantastic and the Brown Dirt Cowboy") is just John and piano with a touch of haunting vocal echo and a well-placed background layer. The lyric addresses human crossroads where tough choices are made: "Every one of us has to face the day/Do you cross the bridge or do you fade away?" John has certainly never lost relevancy with adults, but there is a sense of renewal and purpose here that is striking. One listen is enough to bring tears to sentimental eyes. So many years, so many songs, and this beloved artist still makes it matter. Splendid. —Chuck Taylor


---
THE MIRROR



By Gavin Martin




ELTON JOHN - The Captain And The Kid - 5 STARS





Elton John and songwriter partner Bernie Taupin have just made one of the greatest albums of their 39-year association, and only a Madman Across The Water could deny it. An autobiographical sequel to their Captain Fantastic And The Brown Dirt Cowboy multi-million seller from 1975, The Captain And The Kid is a deeper, funnier, warmer and wiser album than its prequel.





Musicals, animated soundtracks, Las Vegas showcases, a partnership with Tim Rice - workaholic Elton's ubiquity makes him a musical equivalent to Michael Caine. And, like latter-day Caine, the 59-year-old Elton has a new lease of life.





It is his relationship with Taupin that is at the centre of it. Elton recently described meeting his lyricist in 1967 as discovering the brother 'he never had'. Musically, the way they interact here is living proof that their initial connection is now an abiding love, a rare blood-brother bond expressed through music.





Breadth and variety is evident from the start on the Gilbert And Sullivan-style Postcards From Richard Nixon. As our two heroes hit mid-'70s America - a country in crisis - their surreal adventures into rock madness begins.





The funky, pounding And The House Fell Down confronts Elton's drug demons like never before, recalling 'three days of living on a diet of cocaine and wine'.





The beautiful, soulful Never Fade Away glows with compassion, anger and despair. The lyrics muse on Aids and the reaper's random call - 'it's like rolling a dice in the belly of the blues, and the blues never fade away'. Sorry to get soppy, but have the Kleenex handy because this has me blubbing every time I play it.





Lost It On The Wind pours scorn on its title by updating the rustic country style of Tumbleweed Connection. The gorgeous yearning Old 67 has one of Elt's finest Beach Boy-homaging harmony arrangements, and Taupin's 'you going off into the sunset and me still spinning like a Catherine wheel' line on the closing title track vividly fixes their odd couple relationship.





Also, Elton sings throughout with the panache and feeling of a man liberated by his art.





Apparently, this album has been made in a stripped-down, ultra-quick fashion, just like in the old days. But the songs are the product of more than 35 years of experience and a relationship that is evidently stronger than ever.





Elton may have had bigger selling albums, but he has never made one that is so rounded and accomplished, or so emotionally affecting.





Fantastic, Captain!




---
AMAZON UK



Elton John, well known at this stage in his career for his flamboyance, has taken a back to basics approach on his 44th album The Captain and the Kid. With his long-time collaborator Bernie Taupin, Elton has re-approached his classic 1975 album Captain Fantastic and the Brown Dirt Cowboy (the first album ever to debut at Number 1 on the Billboard chart). That album was an autobiographical document of two starving artists getting started in the music business, and their ambitions for the future. More than 30 years later, The Captain and the Kid tells a very different story, but it's no less personal or ambitious. Think of it as a sequel: where Captain Fantastic... was full of youthful optimism and big dreams, The Captain and the Kid catches up with those two characters to find that their dreams have come true in a big way, and the route that was taken to get there. It's therefore a more mature album, but not a more modern-sounding one, something that's very much to its credit. John and Taupin are a masterful songwriting duo, and they rely on the basics that brought them continued success: Elton's piano and voice at centre stage, delivering Taupin's lyrics (in fact, on "Blues Never Fade Away" and the heartfelt "The Bridge", it's nearly two minutes before any other instruments are heard). The Captain and the Kid is a rare and remarkable feat for a musician; it showcases Elton John at the height of his fame, not attempting to recapture his youth, but reexamining his career. It's an intelligent and thoughtful album, and Elton John's finest in many years. --Ted Kord




---

UK Independent Newsp



Reviewed by Andy Gill, Arts & Books Review





**** (4 Stars)





"The Captain is, of course, Elton, and The Kid his songwriting partner Bernie Taupin, the respective nicknames reflecting their wildly divergent approaches to life - neatly summarised in the title track as "An urban soul in a fine silk suit/And a heart out west in a Wrangler shirt".





Perhaps triggered by their own bemusement at how two such disparate spirits, caught "in between the saddle and the grand piano", can have sustained such a fruitful working relationship for so long, The Captain And The Kid is an extended meditation on that relationship, and by extension, their shared relationship with America throughout the last four decades. The big surprise is how such a shameless navel-gazing exercise can actually end up being quite moving.





The album opens up with the rock-operatic "Postcards From Richard Nixon", in which the pair's youthful fascination with America is used to reflect the country's broader attraction for British kids, and how our earlier affinities with its pop culture override more recent divisions.





On a similar theme, "Just Like Noah's Ark" captures the lads in the first flush of their stateside success, entranced by the country's louche charm and sleazy promise, while "Wouldn't Have You Any Other Way (NYC)" narrows their adoring focus to the Seventies Manhattan of Joey Gallo and Studio 54.





Elsewhere, while pondering upon the course of his career in "The Bridge", Elton employs deliberate echoes of the piano style he used years ago on "Your Song", one of several instances of subtle historical resonance that separates his work here from that of his chums The Scissor Sisters, whose distillation of the shiny pop essence of Seventies Elton remains resolutely synthetic and one-dimensional.





The album continues through the Seventies excesses, candidly recounted in "Tinderbox" and "And The House Fell Down", the loss of innocence considered in "Old '67", and the unabashed reminiscence of old lovers in "I Must Have Lost It On The Wind"; but its in the rememberance of dearly departed friends - Aids victims and John Lennon alike - in "Blues Never Fade Away" that Taupin touches the rawest nerve with the surest hand, as Elton wonders why he's been so lucky to come unscathed through a life of such profligate indulgence. "Fate's right hand isn't always just/ Puts a lot of pressure on your faith and trust", sings the great survivor. "It's like a rolling dice in the belly of the blues/ And blues never fade away."





DOWNLOAD THIS:




"Blues Never Fade Away", "Just Like Noah's Ark", "Postcards From Richard Nixon", "The Captain And The Kid".




---

Daily Mail Review



*** (3 Stars)



"Sir Elton might seek inspiration these days from younger acts such as The Killers, but his 44th album still has plenty of old-school hallmarks. An update of 1975's autobiographical Captain Fantastic & The Brown Dirt Cowboy, it pales in comparison with the original, partly because the cosy reminiscences of Elton and lyricist Bernie could never be as riveting as the adventures of two young guns. Old '67 and the title track are let down by Taupin's mawkish streak but there's plenty to admire, particularly The Bridge and Just Like Noah's Ark.


---
The Guardian
Elton John, The Captain and the Kid
(Mercury)

Mat Snown


In 1975, one in every 50 albums sold worldwide was by Elton John. That year's Captain Fantastic and the Brown Dirt Cowboy made myths out of John's scuffling years with his lyricist Bernie Taupin. Resuming the tale from 1970, when Elton shot to overnight stardom in America, this sequel dramatises their partnership in 10 musical vignettes. It's a confident return to vintage form, but much of Elton's mid-1970s success sprang less from great songs than from the heartwarming likability of the man himself - the boy next door made good. Elton and his music are the stuff of Broadway, and almost every tune here sounds hammered and wrought out of the songsmith's forge rather than from a moment's white-hot inspiration. But the bluesier Old 67 and I Must Have Lost It on the Wind stop trying so hard, and a weight lifts; even long-term Elton sceptics will want to tap a toe.
---
Billboard
Elton John "The Captain and The Kid"
For all the hype that John's "Peachtree Road" was a return to his organic roots (it wasn't), if only the label had waited until now. "The Captain and the Kid" could have been recorded 25 years ago, during El and songwriting partner Bernie Taupin's golden days. Thanks to organic, piano-driven production, stellar storytelling and Sir's rededication to his vocal craft,
this is a triumph
. The concept album that serves as a bookend to 1975's "Captain Fantastic and the Brown Dirt Cowboy" is packed with new classics. First single "The Bridge" (his 66th AC chart entry, the highest total of any artist) is a class act, as is the lovely ode to New York, "Wouldn't Have It Any Other Way." Also great: "And the House Fell Down" (reminiscent of "Honky Cat") and the countrified, autobiographical title track.
A master at his finest
. —Chuck Taylor
---

TIMES ONLINE



Elton John





The Captain and the Kid





Sequel albums are, almost without exception, acts of commercial desperation. There will never be a Parklife II. Van Morrison has yet to turn in an Astral Fortnight. Instead it's Mike Oldfield supplying tubular bells with depressing regularity; Joe Jackson cold-calling popular demand with Night & Day II; Barbra Streisand and Barry Gibb clinching for old times on the sleeve of Guilty II.





Had Elton John tried a similar trick ten years ago you would have suspected similar motives. In 1996 he and Bernie Taupin made The Big Picture, an album that Taupin now describes as "abysmally cold". But then in 2001 came Songs from the West Coast, and the patchier Peachtree Road in 2004. In retrospect it's easy to see what both those albums were groping for.





And here it is: three decades separate Captain Fantastic and the Brown Dirt Cowboy and this one. The former flowed from a weary superstar as he sailed back to Blighty from an America that adored him. The Captain & the Kid emerged similarly fully formed over a 20-day period. Both are dense with autobiography, the difference being, according to Sir Elton, that "we were dealing with failure on the first one. The new album's all about dealing with the f****** success".





That distinction isn't always so clear. The sepia recollections of Old '67 could have appeared on either album, as could the bone-rattling honky-tonk tune of Just Like Noah's Ark. Invariably though, Taupin's lyrics are at their best when directly addressing the pair's vertiginous ascent in the 1970s. On Postcards from Richard Nixon, Elton relives the thrill of that maiden visit to the US with ivory-thumping brio: Steve McQueen driving down Sunset and a President gagging for a photo-op: "After years that were long and lean/ We're finally on our way."





Elsewhere, And the House Fell Down summons a surreal Titanic house band ambience thoroughly appropriate for details such as "Three days on a diet of cocaine and wine". Benefiting from a chorus as big as its composer's wardrobe, Tinderbox is better still, detailing the gulf that opened up between himself and Taupin when a fondness for gracing the stage as Minnie Mouse detracted from his more sensitive material.





Underpinning these performances is a musical authority that couldn't be further removed from their singer's tabloid persona. As if to remind us that he occasionally forges friendships with people who don't live in OK! Magazine, on an affecting memorial to an unnamed subject entitled Blues Never Fade Away the composer declares: "He wasn't famous but I surely loved him." Punctuated by Brian Wilsonesque harmonic upswells, Wouldn't Have It Any Other Way (NYC) is a gentler paean to New York than you might expect, given the mauling that John and Taupin's musical Lestat recently received there.





He's mellower, but don't imagine for a second that he's gone soft. John and Taupin's judgment hasn't seemed so sharp in decades. And they knows it. "You can't go back, and if you try it fails," Elton teases on The Captain and the Kid's eponymous closer. In this case, the exception is more than a match for the sequel rule.





PETE PAPHIDES




---

BBC website



In 1975, Elton Hercules John, riding high on a string of hit albums and singles, released his crowning glory: Captain Fantastic And The Brown Dirt Cowboy. This song cycle told the tale of young Reg Dwight and Bernie Taupin's struggles with the seedier side of the music industry in the sixties before the rocket man and his lyricist became rock royalty. It entered the US chart at #1 and has long remained a favourite amongst fans. The Captain And The Kid, Elton's 44th album release - also following a recent critical renaissance - attempts to bring the story up to date.





Comparisons being invariably odious, it's fruitless here to expect Elton to totally match his former glories, but that's not to say that The Captain...is without any charms. With that in mind, it was probably a mistake for the title track to reference the theme of the previous album's. Yet, while the voice may seem, at times, to have descended into the realms of self-parody, Taupin's lyrics cleverly balance self-reference and metaphor to paint an admirably honest picture of the dubious rewards of fame. And the piano player also didn't forget to pack some equally memorable tunes.





"Postcards From Richard Nixon" starts the ball rolling by setting the socio-political scene as the duo arrived in the States on the verge of world domination. Along the way we get glimpses of the tensions thrown up by the relationship between tunesmith and lyricist ("Tinderbox"), the hell of writer's block and more stories of the vacuous, self-congratulatory world of show business (the woefully Elton-by-numbers "Just Like Noah's Ark" ; finally arriving at a mellow scene of warm reminiscences ("Old 67"). Overall it seems that the pair are really coming to terms with the highs and lows of such a lengthy career.





Problems arise when it becomes clear that, unfortunately, stories of misery, struggle and heartache in the face of adversity are undeniably more entertaining than those of misery in the face of shed-loads of cash and drugs. "And The House Fell Down" paints a brutal picture of drug dependency, but it's hard to make it a sympathetic story when you know that the tale is told by a man for whom life's been very good indeed. Once you lose the common touch it seems, you lose it forever.





But John's fans won't be disappointed in The Captain... For a man whose life is now so public as to be virtually indistinguishable from that of our royal family this album remains as heartfelt as we could possibly hope. It's the sound of the Captain and the Kid, stepping in the ring again...





Reviewer: Chris Jones




---
GAY.COM



The Bitch is Back





12 September, 2006






In recent months, it's been all too easy to mock Sir




Elton John and with his hip-hop aspirations and




endorsement of questionable talents, he proves a rich




source of stories.





With Elton's celebrity taking centre stage, his




musical output tends to lurk in the wings, a waning




star and a support act to his headlining personality.





Listen to any of Elton's albums released between '72




and '76 and once again, you're reminded of why he's




the living legend that exudes such high-voltage fame




in the 21st century.





In HMV, you can get a copy of Goodbye Yellow Brick




Road for a fiver, a novel bargain I took an advantage




of a few weeks ago. It's absolutely stunning and




remains his bestselling studio album in the US,




spending 8 weeks at No. 1 and two years in the chart




in total.





Elton's just completed his 44th album and after months




of being horrid to Elton, it's a pleasure to report




that The Captain and the Kid is a return to form and




an instant classic.





It's another welcome collaboration with lyricist




Bernie Taupin and is an update of the definitive




Captain Fantastic and the Brown Dirt Cowboy. Released




in 1975, the album was a musical chronicle of their




experiences up until that point. For the record, John




is Captain Fantastic, while Bernie is the Brown Dirt




Cowboy.





That original Captain Fantastic was the first album




ever to debut on the Billboard Chart at No.1. I'm




gonna put my neck on the line and say this album will




be a chat topper here and in the US.





The multi-platinum selling Songs from the West Coast




is a jolly nice album and the single, I Want Love is a




heart-tugging ballad of brilliance, but I haven't




listened to it in a while.





In fact, The Captain and the Kid has enjoyed more




plays in one weekend than his last album got in five




years.





For me, two signs of a special album are that not only




does one feel compelled to simply sit and listen to




the lyrics, but that when it comes to an end, rise




like a zombie and press 'play' again. The Captain and




the Kid inspired exactly that response in this wary




listener.





Songs from the West Coast reignited Elton's working




relationship with Bernie Taupin and echoed his '70s




golden peak, but The Captain and the Kid is a honing




of the muscles flexed on that respectable release.





There are elements of country, a healthy dose of blues




and plenty of Elton doing what he does best, just




jamming on his old Joanna.





Elton's currently on tour and it has to be said, that




if you haven't seen him live- go. He absolutely rocks.




As the special guest at this year's EuroPride show at




the Albert Hall, he effortlessly brought the house




down, dazzled in a duet with Kiki Dee and showed




admirable humour in the face of technical hiccups.





Lesser talents would have thrown greater strops, but




this diva just got on with it.





During a recent concert at NY's Lincoln Center, Elton




shrugged off his apparent lack of credibility,




admitting: "Our day in the sun has gone, as far as




radio play goes. And we're OK with that."





This album looks set to change all that, and despite




Elton's pessimistic analysis, there could be a couple




of No. 1 singles in this outing, with the title track,




Tinderbox and Old 67 all in with a chance.





The latter song is like a master class in Elton;




rousing chorus, blues- infused piano and a generous




glug of nostalgia. It's the kind of song that makes




you happily bellow along with, while home alone with a




bottle of wine.





If anything, The Captain and the Kid is proof that




Elton should steer clear of the likes of Eminem, TuPac




and er, Pete Doherty. A magic occurs when Elton and




Bernie get together and their combined talents are




showcased by a stripped-back, acoustic focus on the




melodies and lyrics.





His recent threats to fiddle with the world of hip-hop




seem to suggest that Elton still yearns for musical




impact, respect and credibility. The Captain and the




Kid suggests he should yearn no more, he's already got




it.




---

TIME



5 CAPTIVATING NEW ALBUMS FOR -AND BY- ALL AGES.





From the schoolgirls of Smoosh to an elderly Elton,




great music is timeless





The Captain & The Kid - Elton John




This 31-years later sequel to Captain Fantastic and




the Brown Dirt Cowboy is not exactly evidence that




John is pursuing new vistas of songwriting. But in the




comfortable setting of his AM-radio salad days, he




bangs out several irrisistible tunes (Tinderbox, Blues




Never Fade Away),and Bernie Taupin produces a




typically serviceable string of lyrics. The most




interesting element here is John's voice; it's a lot




scruffier than you might remember. At 59, he stretches




to hit the high notes he used to kill, yet the strain




gives his glossiest songs something they have never


had before: a little grit.


---
ENTERTAINMENT WEEKLY



Anyone heralding a new Elton John album as a return to form faces credibility issues. (You may recall the ''Elton's back!'' scare around 2001's Songs From the West Coast.) But it's not crying wolf to warn you that Captain & the Kid is EJ's best since the Carter years. It's an autobiographical song cycle largely about the 1970s, which gives Elton a thematic excuse to answer fans' prayers, drop the adult contemporary slop, and deliver a piano-dominated, live-band effort consciously aping his earliest, most idiosyncratic breakthroughs.





It's billed as a follow-up to 1975's Captain Fantastic and the Brown Dirt Cowboy, and while there's a whiff of desperation to classic-rock ''sequels,'' this really does pick up where John and lyricist Bernie Taupin left off. Barrelhouse rocker ''Just Like Noah's Ark'' isn't afraid to celebrate Studio 54-era excess, though much of the album is rueful, including ''Blues Never Fade Away,'' a sort of Everyman's ''Candle in the Wind.'' If Elton's music makes a fine case that time can stand still, Taupin's lyrics, with their late-middle-age perspective, nicely put the lie to that idea. So would it be asking too much to also put in requests for Tumbleweed Reconnection and Goodbye Again, Yellow Brick Road?





Grade: A-




---
TELEGRAPH



Bob Dylan recently asked: "Who's the last individual performer you can think of? Elton John, maybe." Not many would put these two great singer-songwriters in the same category, but, like Dylan, Elton has hit a rich vein of late form, this being his third album in a row reconnecting with his musical roots in pop, rock and honky-tonk.





Cruelly discarded by the inbuilt age discrimination of pop radio, Elton's problem is that, at 59, he has to adjust the shallow perception created by decades of flamboyant hit-making and re-establish himself as a serious album artist. For this, he is enormously dependent on lyricist Bernie Taupin. A bold opener, Postcards from Richard Nixon, reveals the sometimes melodramatic Taupin to be on witty and gritty form, recalling the duo's '70s arrival in America "where Disney's God and he commands both mice and men".





The Captain and the Kid is an ambitious sequel to 1975's autobiographical Captain Fantastic and the Brown Dirt Cowboy, taking us through three turbulent decades during which time Elton's voice has dropped a notch; this mature tone works best when he exploits its bluesy gravity or broken intimacy. Blues Never Fade Away, a survivor's reminiscence of lost love in the age of Aids, is all the more touching for exposing vocal cracks.





The album hits a terrific central patch, touching on Elton's descent into egomania and drug addiction, including the self-lacerating And the House Fell Down, the epic ballad The Bridge and the magnificently catchy Tinderbox. The latter reveals Elton's pop genius to be undiminished, as he punches home a chorus that lodges in your cranium, from where it is almost impossible to remove. Neil McCormick




---
MUSICOMH.COM


4 stars





He may be approaching 60 but Elton John was never going to grow old gracefully, as his collaborations with Scissor Sisters and pop twerps Blue have confirmed. Thankfully, since 2001's Songs From The West Coast, he's also realised that when it comes to simple, impassioned piano-based balladry, there are few to better him.





That album's majestic, rootsy highlights I Want Love and This Train Don't Stop Here Anymore provided the template for the 2004 opus Peachtree Road, and now this, his 44th record. In a nutshell: it's the sound of a man weathered and bruised, but dignified and full of vitality.





The positive response to the previous two records has given him the confidence to dip into his past and, with old sparring partner Bernie Taupin, create this 'sequel' to 1975's Captain Fantastic And The Brown Dirt Cowboy. The original was his final creative peak before the rot set in, a momentous collection of deeply personal songs addressing the pair's lives up to that point. Although The Captain And The Kid doesn't quite reach those heights, it more than vindicates his national treasure status, and shows today's glut of young singer-songwriters just how it's done.





Aurally, it's classic early '70s Elton, all sweeping strings and soaring backing vocals, but the autobiographical lyrics are what really grab the attention. He's singing about himself and Taupin - not bleedin' Billy Elliot - and consequently sounds more passionate than ever.





On Old 67 there's a yearning for a lost "time of innocence", and the title track sees him dropping in references to yellow brick roads and rocket men. Despite this, the record avoids wallowing in the past via a sense of renewed optimism for the future, and by the end he's swapped his "six inch heels" for "a brand new pair of shoes", while the figure of the 'brown dirt cowboy' rides off into the sunset. Cheesy, perhaps - but told through Elton's timeworn croon, it melts the heart.





On form like this, you can forgive the man nearly anything. Maybe not that Blue collaboration, but we all make mistakes. What could have been a tired old rehash has turned out to be a full-blown rediscovery of his muse. The world doesn't need another Elton John album, but it's heartwarming to hear an old-timer knock out such an emotional, pathos-filled document of lost loves and ageing friendships. With the distinct possibility of a hip hop album looming, someone should tell him to give up on the desperate attempts to stay relevant. Here, he sounds old, and all the better for it.





- Adam Burling




---
ROLLING STONE
****

The Captain and the Kid is the third album in a career-resurrecting run that began in 2001, when Elton John took the novel approach of sitting down at a piano and writing songs that sound a lot like Elton John. The album is a sequel to 1975's chart-topping Captain Fantastic and the Brown Dirt Cowboy, and it has moments that rival the original: The songs are precision instruments, from the honky-tonk pop of "Just Like Noah's Ark" to pristine ballads like the title track. With lyricist Bernie Taupin in tow, The Kid traces thirty-odd years' worth of ups and downs that befall the duo. The story line gets a little murky and the album cheeses out on songs like "The Bridge." But more than just a gift to fans, it shows Elton's gifts haven't deserted him. And that's more than good enough.
A


---
ALL MUSIC
Stephen Thomas Erlewine (3 stelle e 1/2)
Ever since 2001's Songs from the West Coast, Elton John and his longtime collaborator, Bernie Taupin, have been deliberately and unapologetically chasing their glory days of the early '70s, but nowhere have they been as candid in evoking those memories as they are on 2006's The Captain & the Kid, the explicitly stated sequel to 1975's masterpiece Captain Fantastic and the Brown Dirt Cowboy. That record was an autobiographical fantasia of John and Taupin's early years — the days when they were struggling to make their mark, right up till their glorious success — and the idea behind this album is to tell the story of those salad days, which not only isn't a bad idea at all — it's clever and well-suited for John, the most self-consciously unautobiographical of all major rock artists — but fits right into Elton's desire to make records like he used to; after all, if he's trying to sound like the way things used to be, he might as well sing about the way they used to be, too. And The Captain & the Kid is nothing if not a proudly nostalgic piece of work bearing no modern touches; even the synths that occasionally color this country-ish rock are old fashioned analog synths. It sounds like an dream project on paper, but like a lot of dream projects, The Captain & the Kid doesn't quite live up to its lofty ideals. Part of the problem is that John has patterned the music not after Captain Fantastic — which lived up to its glamorama title through intense flights of camp and glitz that helped give its narrative a theatrical flair, not to mention a hell of a lot of color — but after the stripped-down, country-tinged pop and rock of Tumbleweed Connection and Honky Chateau. That is the sound at the core of most of his best music of the early '70s, but it's not necessarily the best choice for this album, since it doesn't quite fit with the original Captain Fantastic or the gaudy story of their success; it's a tale that calls for bright neon colors, and everything about this album is muted and tasteful.
It might not quite seem like what a Fantastic sequel should be — in fact, it seems more like a sequel to its direct predecessor, 2004's Peachtree Road — but that's hardly a bad thing. Like that album and Songs from the West Coast before it, The Captain & the Kid is a sharp, professional piece of work by sharp professionals conscious of their past and no longer wishing to rest on their laurels, so they're consciously evoking their best work without quite recycling it. They might not hit their mark directly, but they get close enough — it may be a little self-conscious and the production is a shade too clean, but the performances are warm and intimate, so this music feels right even if it doesn't necessarily feel exactly like Elton's '70s heyday. And the more familiar this song cycle becomes, the easier it is to admire the craft behind it, particularly in individual moments like the slow build on "Wouldn't Have It Any Other Way (NYC)," or how "Tinderbox" hearkens back to "Somebody Saved My Life Tonight," or the lightness of "I Must Have Lost It on the Wind," or the lazy blues of "Old 67," or how "The Captain and the Kid" brings to mind not Tumbleweed Connection but Billy Joel's approximation of that album on Piano Man. So, no, The Captain & the Kid isn't quite the second coming of Captain Fantastic, but it's hardly a cash grab by an aging diva — in other words, it's no Basic Instinct 2. John's intentions are pure and even if he doesn't quite make an album as good as his '70s work, it does stand alongside that work nicely — it's clear that he and Taupin are really trying, and it's far better to have albums like this and Peachtree Road that fall short of the mark but nevertheless get close than to have an endless series of well-produced but empty records like The One and Made in England.
---
da

The Music Box novembre 2006
Elton John
The Captain & The Kid
(Interscope)
Written by John Metzger
Since releasing Captain Fantastic and the Brown Dirt Cowboy in 1975, Elton John's recording career has been spotty and uninspired, but after spending several decades favoring cheesy pop songs over artistically credible confections, he finally managed to reconnect with his roots on 2001's Songs from the West Coast. Granted, the endeavor wasn't a complete success, but it did make the case that a creative fire still burned within him, thus providing a hint that perhaps he still had something left to say. Unfortunately, on his subsequent effort Peachtree Road, he fell back, at least in part, upon his old ways. Despite its many flaws, however, the decidedly uneven affair continued his reawakening, leaving no doubt that John was fighting to escape the stagnant quagmire that had contained him for nearly 25 years. It would be easy to scoff at the notion that, for his latest project, John opted to create a sequel to his last classic outing Captain Fantastic and the Brown Dirt Cowboy. Yet, the fact of the matter is that the resulting endeavor The Captain & The Kid not only is the culmination of his journey back in time, but it also is one of the finest efforts of his career.
On Captain Fantastic and the Brown Dirt Cowboy, John and lyricist Bernie Taupin examined the misery and failure that plagued their lives before they achieved financial success. By contrast, The Captain & The Kid catches the duo on the other side of their meteoric rise, and throughout the endeavor, they reflect upon their inability to cope with fame and fortune. Tucked within Wouldn't Have You Any Other Way (NYC)'s fond reminiscence, for example, rests a fallacious belief in their own indestructibility, while Tinderbox conveys the fragility of their tempestuous relationship. Elsewhere, Blues Never Fade Away is an utterly moving ode to those who died prematurely, whether due to AIDS, drugs, or murder, and The Bridge is both a pensive meditation upon losing one's muse as well as a tale of perseverance that links Your Song with Someone Saved My Life Tonight. In viewing their lives from the wiser perspective of middle age, John and Taupin magnificently capture the true essence of their experiences together, and had The Captain & The Kid been conceived and recorded at any other point in their careers, the album never would have worked nearly as well as it does.
What helps to solidify The Captain & The Kid's importance is that, from start to finish, the collection contains the most satisfying batch of tunes that John has concocted in years. Where some of the melodic moves that he employed on Songs from the West Coast and, to a greater extent, Peachtree Road felt forced, the entirety of The Captain & The Kid unfolds in an effortlessly organic fashion. All 10 of its tracks are immediately ingratiating, and the passage of time does little to diminish their potency. A chorale of backing vocals combined with the majesty of John's arrangements lends the music a theatrical air that is well suited to the album's grand, underlying drama. Fortunately, John resisted the urge to overdo it by slathering the set with the pomp and circumstance of a series of overblown string accompaniments.
Based around John's voice and piano, the simplified sound that permeates The Captain & The Kid lends a warm intimacy to the material that is akin to his 1973 gem Honky Chateau, while the glam-imbued textures of Just Like Noah's Ark and the fiery intensity of ...And the House Fell Down and Tinderbox provide positive proof that he is reinvested fully in his work. Undoubtedly, youngsters will dismiss The Captain & The Kid as the ruminations of an old man who hasn't been vital for years and is desperate to return to his glory days. Yet, in striking the perfect balance between his commercial aspirations and his artistic pursuits, John has sculpted an album that is nearly as powerful, as vibrant, and as bold as anything that he has ever done.
½
---
Elton John - The Captain & the Kid
About.com Rating
By Bill Lamb, About.com
© Interscope Records
Elton John's album The Captain & the Kid will be treasured by his fans and will likely inspire more than a few chills of recognition. For less dedicated listeners, The Captain & the Kid is a solid, nostalgic pop album that avoids descending into sticky sentimentality. This collection of songs is proof that there are still sparks of magic that fly when Elton John and Bernie Taupin collaborate in writing music.
Captain Fantastic and the Brown Dirt Cowboy Revisited
The Captain & the Kid is a sequel of sorts to 1975's Captain Fantastic and the Brown Dirt Cowboy, one of the most celebrated albums of Elton John's long career. Captain Fantastic and the Brown Dirt Cowboy was an autobiographical work describing the struggles of Elton John and lyricist Bernie Taupin during the early years of their musical collaborations in England. It included the stunning top 5 pop single "Someone Saved My Life Tonight."
The Captain & the Kid revisits the ensuing events over the next 30+ years in the John-Taupin collaboration, and their adventures as an odd couple - John the high-profile performer and Taupin the writer who just wants to be a cowboy. There have been periods since 1975 when Elton John and Bernie Taupin each wrote songs with other collaborators, but they continue to inspire the best work in each other. The Captain & the Kid is a worthy continuation of their story.
Touching the Nostalgic Bases
Kicking off with "Postcards From Richard Nixon" detailing first impressions and first adventures in the United States, The Captain & the Kid touches a wide range of nostalgic bases in the careers of the duo. The rocking "Just Like Noah's Ark" gives an impressionistic view of the record business of the 70's. "Blues Never Fade Away" refers to Elton John's support of Ryan White, an early high-profile victim of the AIDS epidemic, and "I Must Have Lost It On the Wind" ruminates about Elton John's long list of past lovers.
Although the music roams through the years as if seen through sepia glasses, John and Taupin deftly avoid sugar-coating the past even covering their fiery conflicts with honesty on "Tinderbox" and "...And the House Fell Down." These songs ring true like a classy memoir instead of sounding like a well-scrubbed tribute. High points are here side by side with more than a few lows.
Top Tracks on 'The Captain & the Kid'
Postcards From Richard Nixon
Just Like Noah's Ark
The Bridge
Old '67
The Captain and the Kid
Reasons to Still Listen to Elton John
Although it lacks the truly cinematic scope of some of Elton John's early to mid-1970's work, The Captain & the Kid still provides plenty of reasons to continue listening to Elton John. The piano and voice combined with Bernie Taupin's unique lyrical glasses deliver a singular sound that is familiar to millions of music fans. Whether rocking through "Just Like Noah's Ark" or delivering a majestic reading of "The Bridge," Elton John and his band help us all remember the past with a sense of both comfort and grace.
Instead of being a farewell, The Captain & the Kid sounds most like a summation of the past and preparation for the future. If we're lucky, 10-20 years down the road John and Taupin may find reason to extend the story of the "urban soul in a fine silk suit" and "heart out west in a Wrangler shirt."
---
---