ELTON JOHN & band




Abu Dhabi (Emirati Arabi) 22 gennaio 2008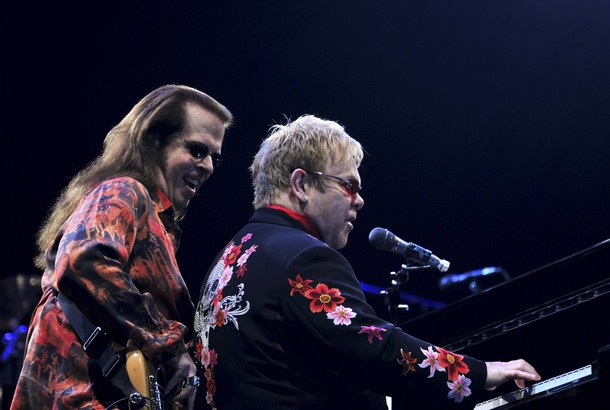 Elton John and His Band to Light up the Stage at Emirates Palace
Wed, 12 Dec 2007 12:26 AM - Dubai Time
International icon and legendary musician Sir Elton John and his band are set to enthrall fans with a once-in-a-lifetime performance at Emirates Palace on 22 January 2008. Playing in Abu Dhabi for the first time in his career, the flamboyant performer will light up the outdoor
West
Wing
stage with renditions of his all-time favorite hits.
The multiple Grammy Award Winning artist is renowned for his charisma and stage presence, constantly filling stadiums and concert arenas around the world due to his distinctive style and amazing musical talent. Best known for his tribute song to
Princess
Diana
, 'Candle in the Wind', which became the best selling single of all time; almost everyone recognises the genius of Elton John in hits such as 'Your Song', 'Rocket Man', 'Crocodile Rock', 'Goodbye Yellow Brick Road', 'Saturday Nights Alright For Fighting', Philadelphia Freedom', Pinball Wizard', 'Circle of Life' – which featured in his
Lion
King
movie
and stage show - and more recently the poignant hit 'I Want Love'.
The Elton John concert, produced by Event Solutions is the latest in a series of high calibre events secured by Emirates Palace and by far the most significant yet. General Manager of Emirates Palace and avid Elton John fan, Noel Massoud is particularly excited about the upcoming performance, saying, "Sir Elton John is one of the greatest performing artists of all time, with a huge following
of fans spanning all nationalities and age groups. It is indeed an honor to host such an esteemed musician and I look forward to greeting him in person and welcoming him to Emirates Palace."

Abu Dhabi is increasingly attracting high profile events, including the Abu Dhabi Formula 1 Grand Prix, the Abu Dhabi Golf Championships and performances by Placido Domingo, Chicago – The Musical, Carmen Opera, and Justin Timberlake.
Ideal for festive season gifts, tickets for the 9pm show go on sale from 14th December 2007 and will be available in three categories priced at AED 295, AED 595 and AED 950. Doors open at 5pm. For bookings and inquiries please go to wwwtimeouttickets.com or call 800 4669.